Follow us @WooldaleJrClass2 to find out what we are up to right now.
Tree Study June 2017
Recently we have been completing a study of all the trees in the school grounds. It involved counting, identifying and classifying the trees. We used measurements and mathematical equations to calculate the age of the tree. We also constructed our own clinometers to calculate the height of the trees.
Team Marathon 26th May 2017
This year we ran our team marathon to raise money for the Forget Me Not Children's Hospice. It was a gorgeous day and with the help of the DJ and our extensive training.... we nailed it!
Post SATs Fun
Once the SATs were over we had a special Outdoor Pursuits Day to celebrate. We put up tents and practiced our den building. We built and lit a campfire and toasted marshmallows over it to make smores. Three future "Bear Grylls" in the photo maybe???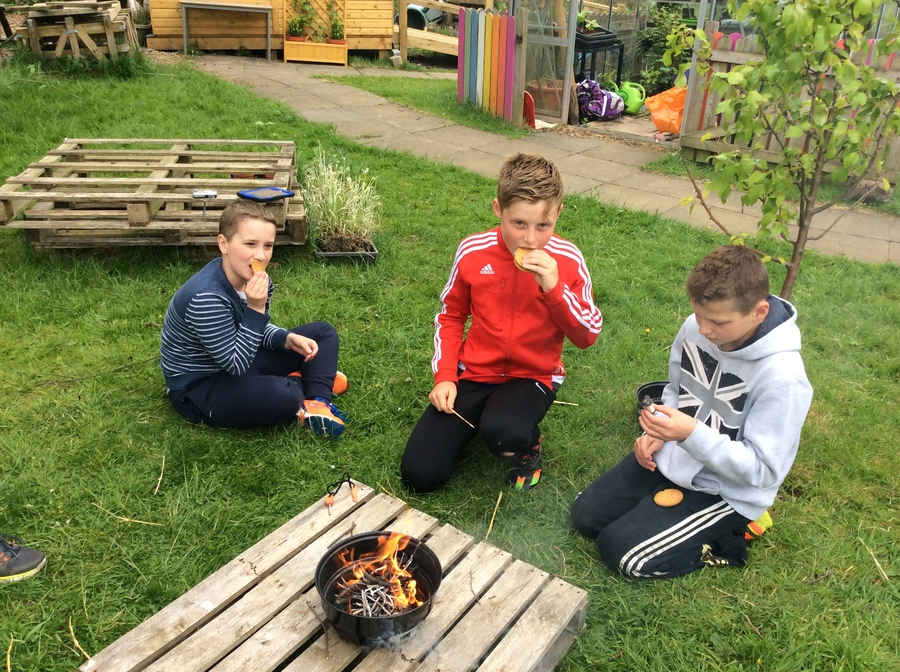 Class 2 Spring Highlights
Here are some highlights of what we have been up to this term....
Class 2 Does Bake Off - November 2016
We love bit of cake at Wooldale and especially in Class 2....
New Mill Memorial Room - November 2016
For Remembrance Day, Year 6 visited the Memorial Room in New Mill. An interesting and solemn experience, it is one of very few memorial rooms in the country. As well as recording the names of soldiers who fought in both world wars, it also has photographs of them on the wall for all to see.
Eden Camp - Autumn 2016
As part of their topic on World War II, Year 6 had a day out to Eden Camp near Malton in North Yorkshire. Eden Camp is a multi award winning modern history theme museum housed within the grounds of an original World War II prisoner of war camp. They had a very interesting day as you can see from the pictures below....