Friday 17th November, Children in Need "Spotacular" - bring a donation and wear spots!!
Walker Morris Calendar Competition Winners 10.11.17
Some of our keen artists have been lucky enough to be selected to have their pictures made into next years Walker Morris calendar and they are off to the presentation evening to receive their prizes. A big thank you to Mrs Starrett and Miss Hilton for running the Art Club and organising the competition entries and well done to all our amazing artists.
Community Christmas Tree Festival 8.11.17
Wooldale is joining forces with Christ Church, New Mill by taking part in their Community Christmas Tree Festival this year. We have chosen our recycled Christmas Tree and now we have to decorate it. You can see some of our competition in the pictures below. Check back to find out more about our tree.
Autumn Fair 14.10.17
Many thanks for all your generous donations for the Autumn Fair and for coming along on the day and making it such a successful event. A big thank you too, to all the volunteers who manned stalls and games, painted faces and served lunch. The amount raised was over £2,300 - fantastic!!!
Special thanks to the Friends of Wooldale team for all their hard work organising this event. They will be holding their AGM in November and desperately need new members to be able to continue. The funds they raise enable school to provide many extra resources and activities for the benefit of all the children. watch out for the date of the AGM and please lend your support.
The Big Soup Share 3.10.17
Today we took part in RHS Schools Big Soup Share. Some of our Wild Wooldale Buddies harvested and prepared vegetables which were made into leek and potato soup, which was then shared at lunchtime. They also prepared some freshly baked bread sticks too. It was truly delicious...
Cross-Country Success 2.10.17
Last week six teams of keen Wooldale runners took part in the first round of the Honley and Holmfirth Pyramid Cross Country Competition. There were eight races in total with six of them being competitive. Wooldale won four races and came second in another - well done to all involved, it's a fantastic achievement. George said "It was a bit short but it was really good fun". Five out of our six teams are now through to the second round which will take place at Leeds Road.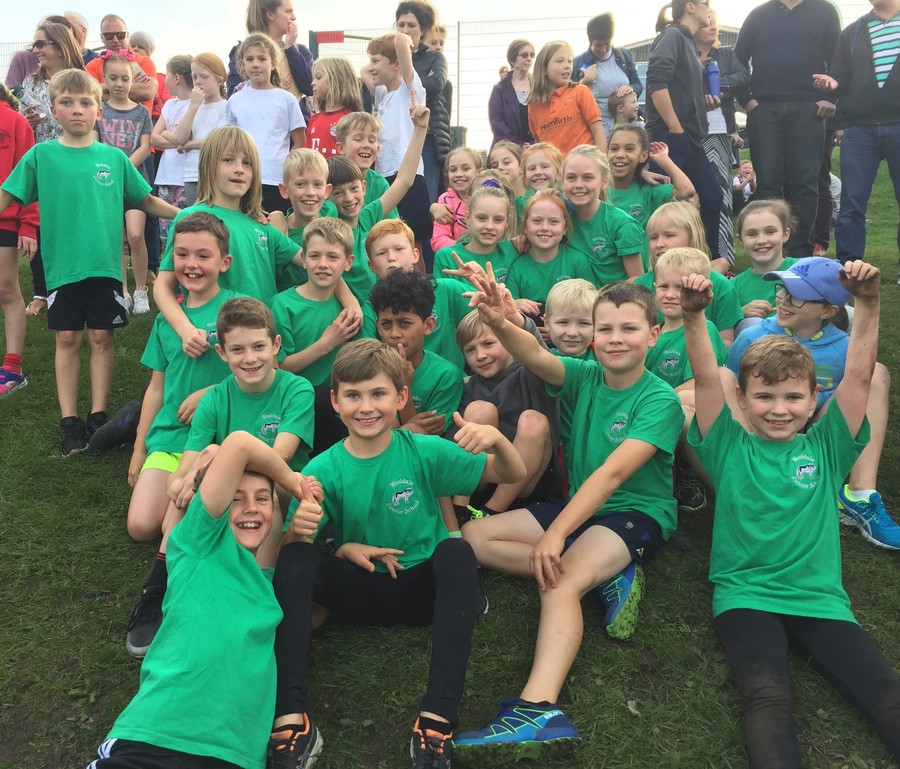 Macmillan Coffee Afternoon 29.9.17
A huge thankyou to everyone who supported our Macmillan Coffee afternoon. There was tea, coffee and cakes galore. UPDATE:- we raised £289 for Macmillan!!!
Co-op Community Day Update
Many thanks to everyone who came and joined in with the fun and a huge thank you to the Co-op for organising it all. We raised over £400 for school funds.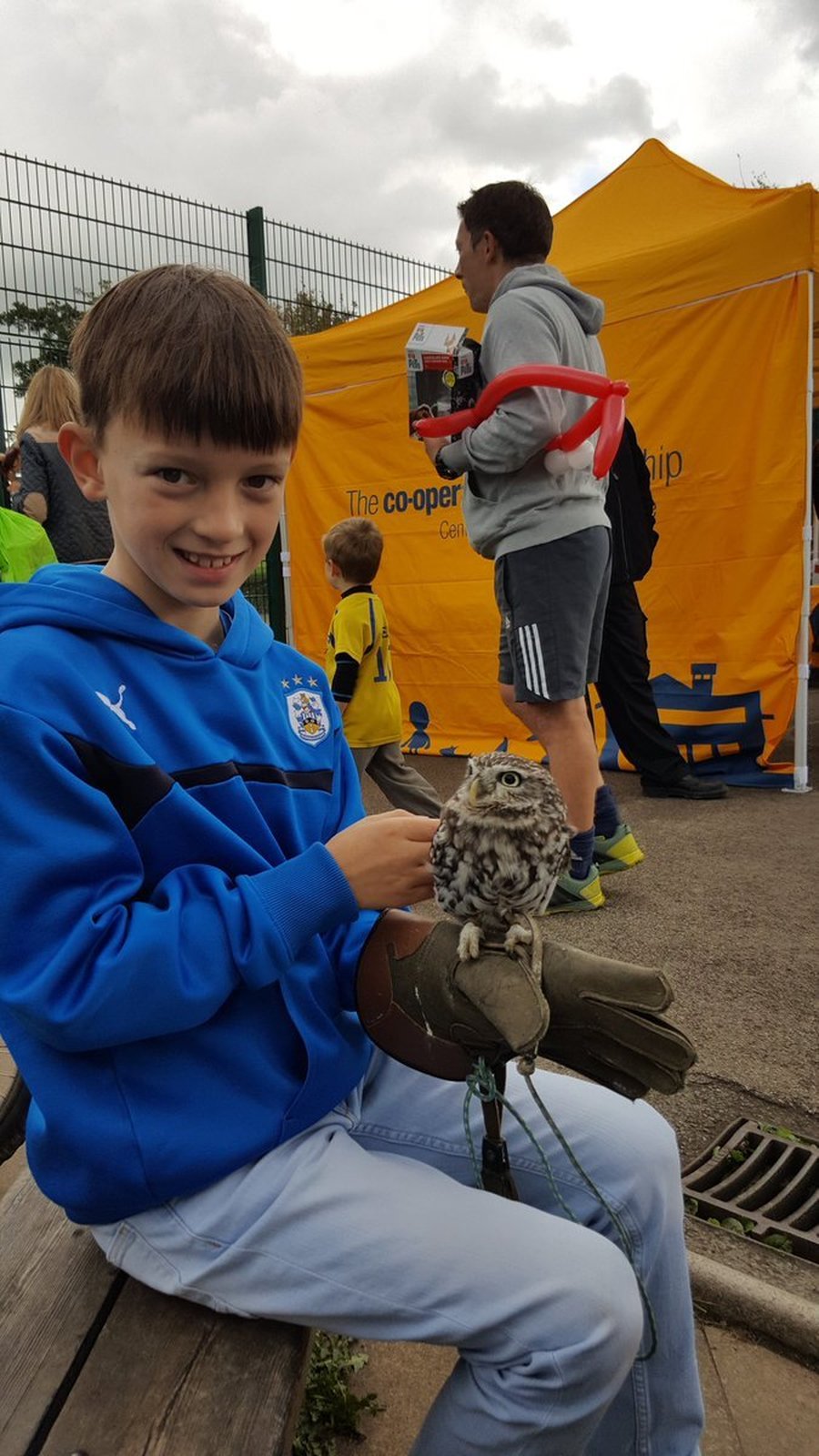 Co-op Community Day 12.9.17
Come and join in the fun and games on Saturday from 12pm until 4pm. There will be food and drink, fun and entertainment, games and a visit from the Yorkshire Owl Experience. Looking forward to seeing you all there!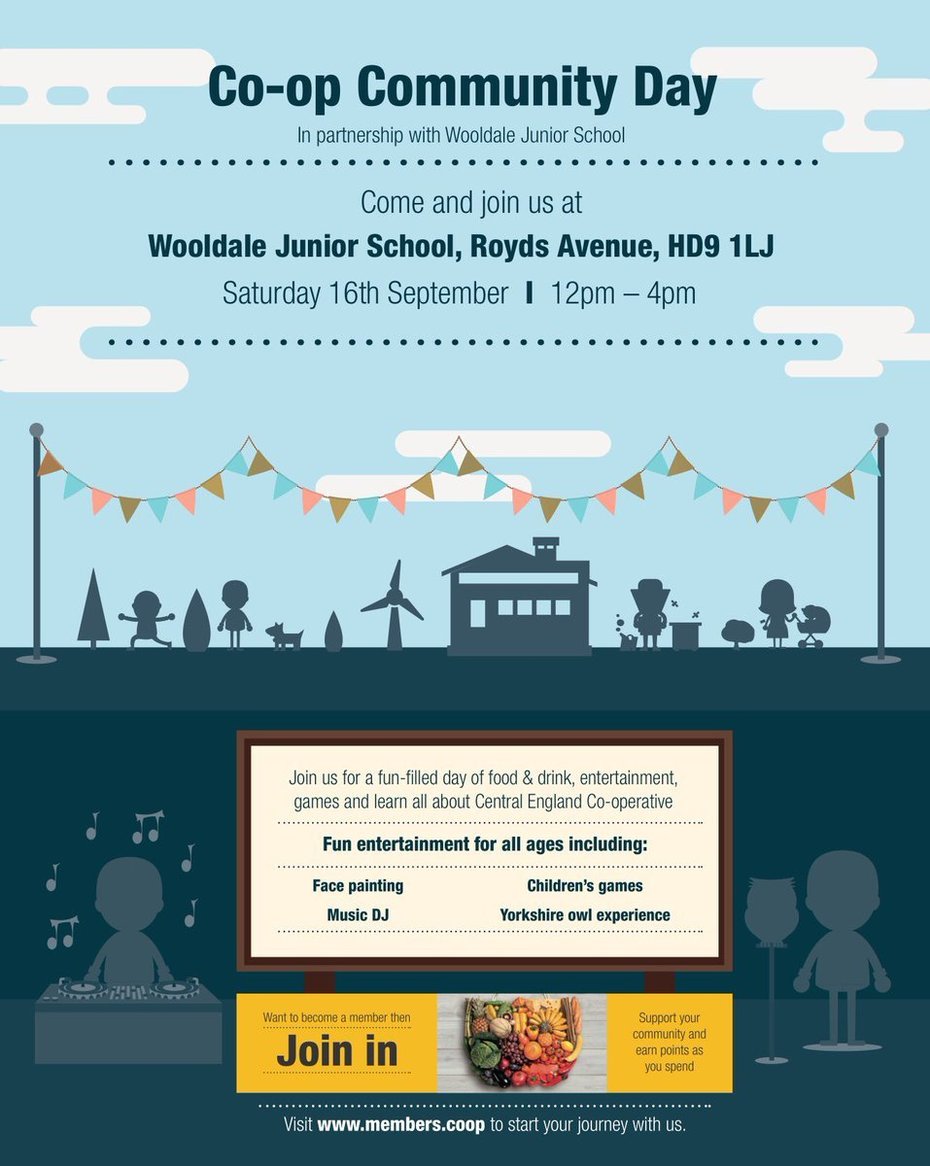 "Break a leg" Siam!!!!
Oh, my goodness, we are so excited for Siam!!! He has awesome drumming skills and has been chosen to go to London to take part in...

It means that he is going to be really busy and we won't see him for a while but we wish him every success and hope that he has a fantastic time. You can read more about it here and here.
A very big Welcome Back to everyone.
Welcome to our new school year 2017-2018. It is lovely to see so many happy, smiling faces back at school, all keen and ready to learn in our new classes. A particularly big "Welcome" to our new pupils in Year 3 and throughout the school, we hope you will love your time at Wooldale. We are looking forward to an exciting year.
There have been a few changes to the organisation of our classes in school this year which means our website and Twitter feeds need to be updated too. We will be adding and changing things as time goes on so please check back often and feel free to contact school with any requests, suggestions and ideas for us to try. We are always open to suggestions.
If you are looking for our old "What's New" page with all the wonderful pictures and events from last year don't worry, it's still here. Please go to Achievements 2016 - 2017 to find it. (September 2017).