Wow!!! What an amazing year that was at Wooldale. Did you feature on our What's New? page? Was there something really memorable that you took part in?? If so then you'll find everything here. Start at the bottom and scroll up to see everything in date order. Have fun!!!
Leavers Assembly 23.07.18
Today we said "Au Revoir" to all our Year 6 pupils. Mr Casper and Ms Davies did an amazing job singing their praises and there wasn't a dry eye in the house. It's "Au Revoir" to Mr Casper, Miss Wright and Mrs Harris too as they move on to pastures new. We can't say goodbye because we hope to bump into them all again sooner or later. Good luck everyone!!! We will miss you all and think of you often.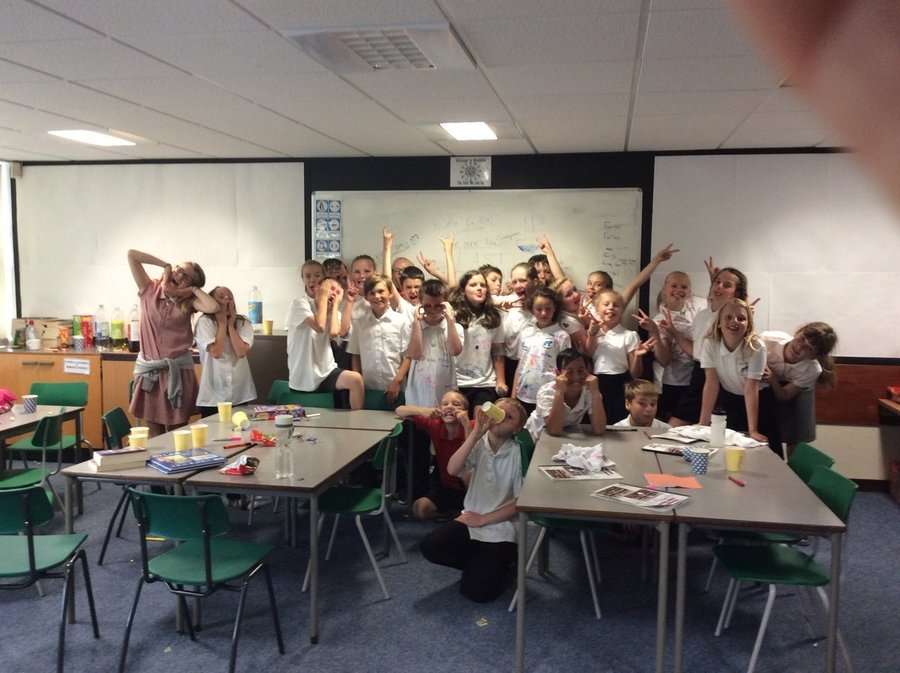 Team Marathon Update 19.07.18
A HUGE WELL DONE to everyone who took part in our team marathon event back in June. This year we supported Kirkwood Hospice and, through sponsorship, raised an AMAZING total of (drumroll please!!)..............
£1567
That is fantastic and we are extremely proud of you all!!! We have had an assembly in school to present a massive cheque to visitors from Kirkwood Hospice who were very pleased and very grateful to receive it.
Awesome All-Rounders!!! 6.07.18
Congratulations to our keen sportspeople who took part in the Pennine Sports Partnership Rounders Tournament at Holmfirth High School today. Wooldale A Team won the whole tournament and Wooldale B team only lost to the A Team in their first game. Big thank you to everyone who took part and especially Holmfirth High School PE Dept who helped to organise and run it.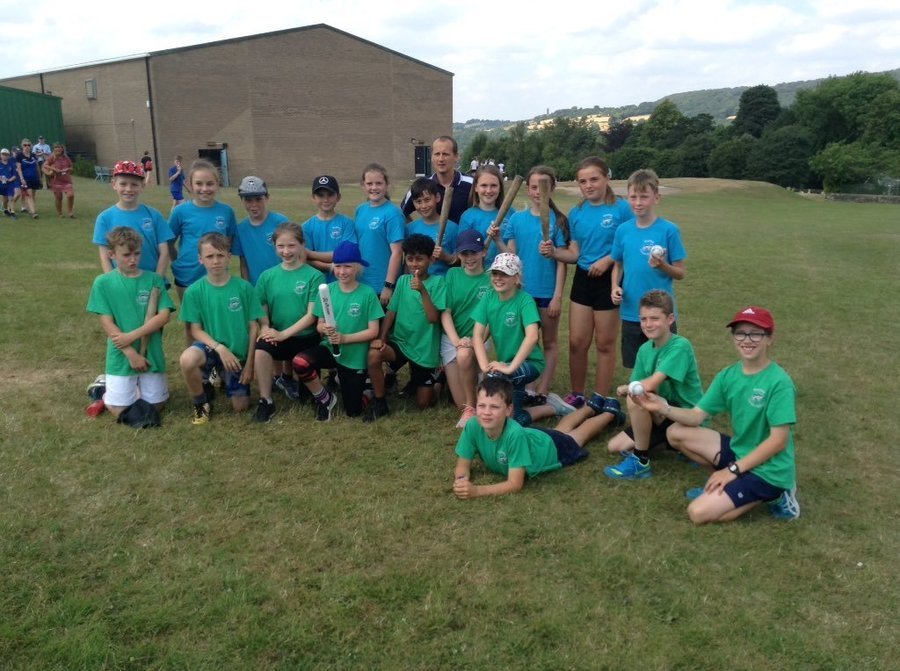 Amazing Artists 29.06.18
**Newsflash** - We raised £490 for Macmillan through the Art Exhibition!!!
Do you like Art??? Well there's lots and lots of Art to see this week because it's Holmfirth Artweek. There are exhibitions open at the Civic Hall and all around the valley but the best one to visit is at Thongsbridge Tennis Club because it's the Holme Valley Schools Art Exhibition (we're not biased in any way!!!). It's organised and curated every year by staff at Wooldale and showcases some beautiful work from children at Wooldale, Kirkroyds and other schools in the Valley. It's all for sale too and all the money goes to Macmillan. So come and enjoy the beautiful work, buy some and raise money for charity. Here is a sneak peek of what you might see....
Super Swimmers 15.6.18
Well done to the keen swimmers who took part in the Holme Valley Schools Swimming Gala. They achieved joint overall champions. It was a fantastic team effort! One pupil broke a ten year old gala record to help the team to victory. We are very proud to be sharing the trophy with Holmfirth J & I School (Nabb).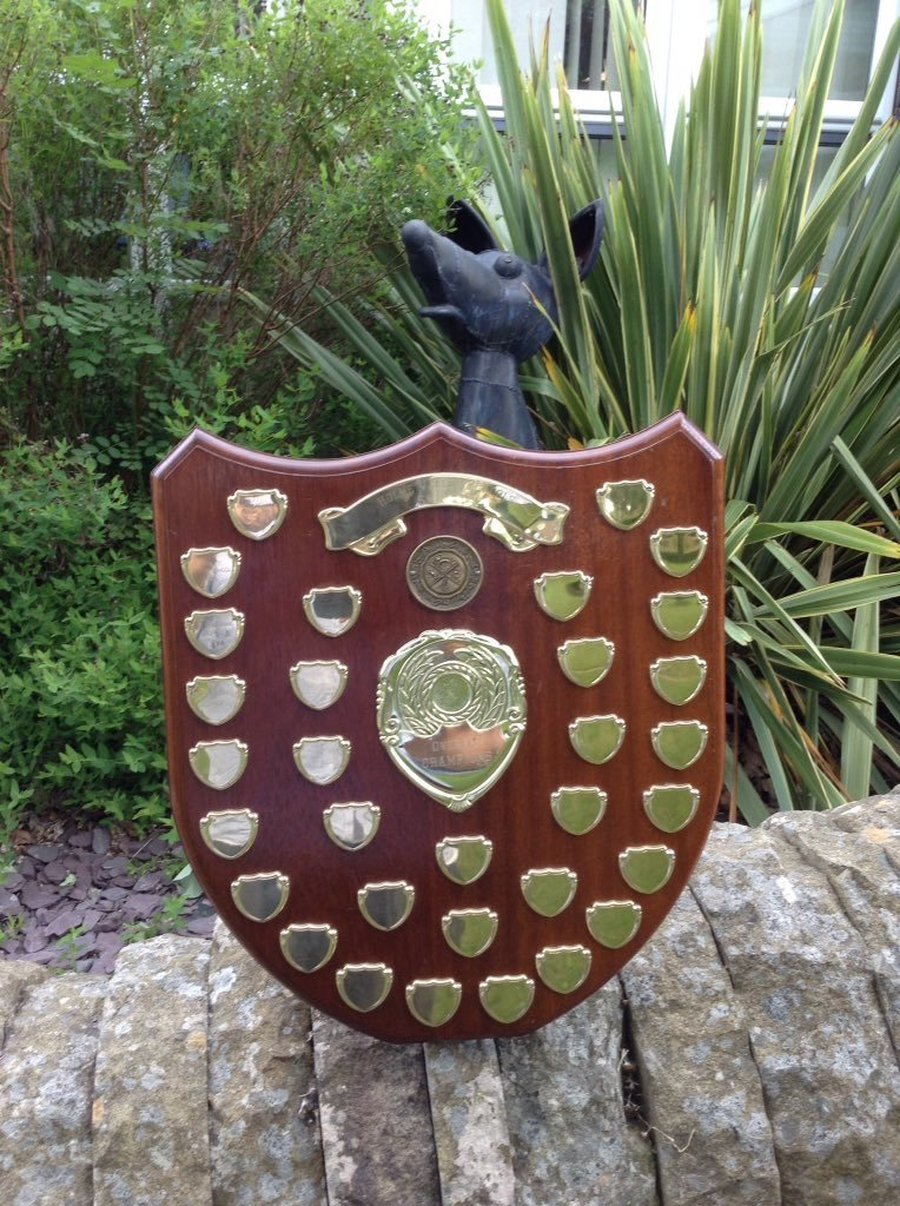 "One Fish, Two Fish, Old Fish, New Fish" 14.6.18
Did you spot something fishy happening along the river Holme this week??? Some of our pupils collaborated to produce this amazing fish sculpture which was positioned in the river to take part in Holmfirth Arts Festival. It was made using "waste" to highlight the problems caused by discarded waste materials polluting our rivers and oceans. Doesn't she look amazing in the sunshine???
Coming Soon.... Chocolate Bingo 11.6.18
**Newsflash** - Sadly this event has been cancelled. Please watch out for a new date later in the year.
Wooldale Team Marathon 2018 08.06.18
A HUGE well done to all the pupils and staff who took part in the team marathon today. Three and a half times round the school field adds up to a whole marathon and all in aid of Kirkwood Hospice this year. A big thank you to parents and carers who came to support us too. It was hard.... but it was fun too.
Holmfirth Schools Cricket Competition 23.05.18
This fantastic event was organised by Pennine Sports Partnership and run by Holmfirth High School Sports Prefects. Our amazing team won the Y5/6 competition.... Yay!!! Go Wooldale!!! Well done to everyone who took part.
Mini-Olympics at Wooldale 22.05.18
Our Year 3s took part in this exciting event organised by Pennine Sports Partnership and run by Holmfirth High School Y7 Sports Leaders. They were joined by pupils from Hepworth and Scholes. All had a very enjoyable and sporty morning.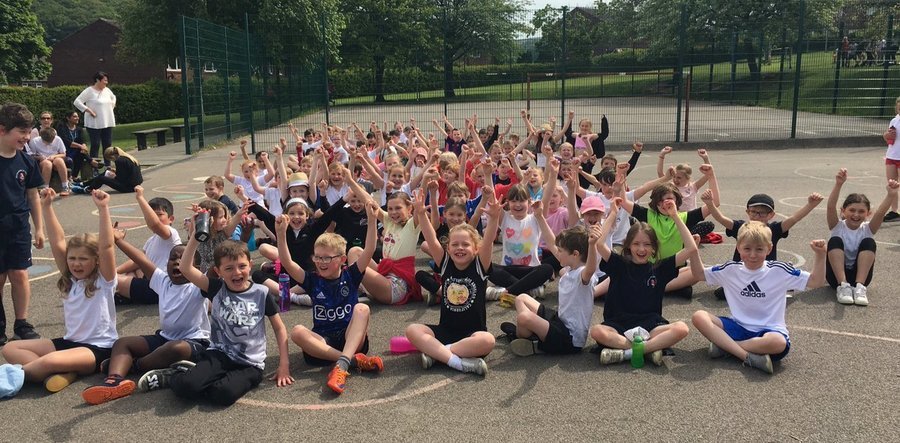 Walk To School Week 21 to 25.05.18
It's been Walk to School Week at Wooldale, the perfect excuse to save your petrol money, improve our environment and look after your health. A huge well done to everyone who put in the effort and got their walking shoes on!!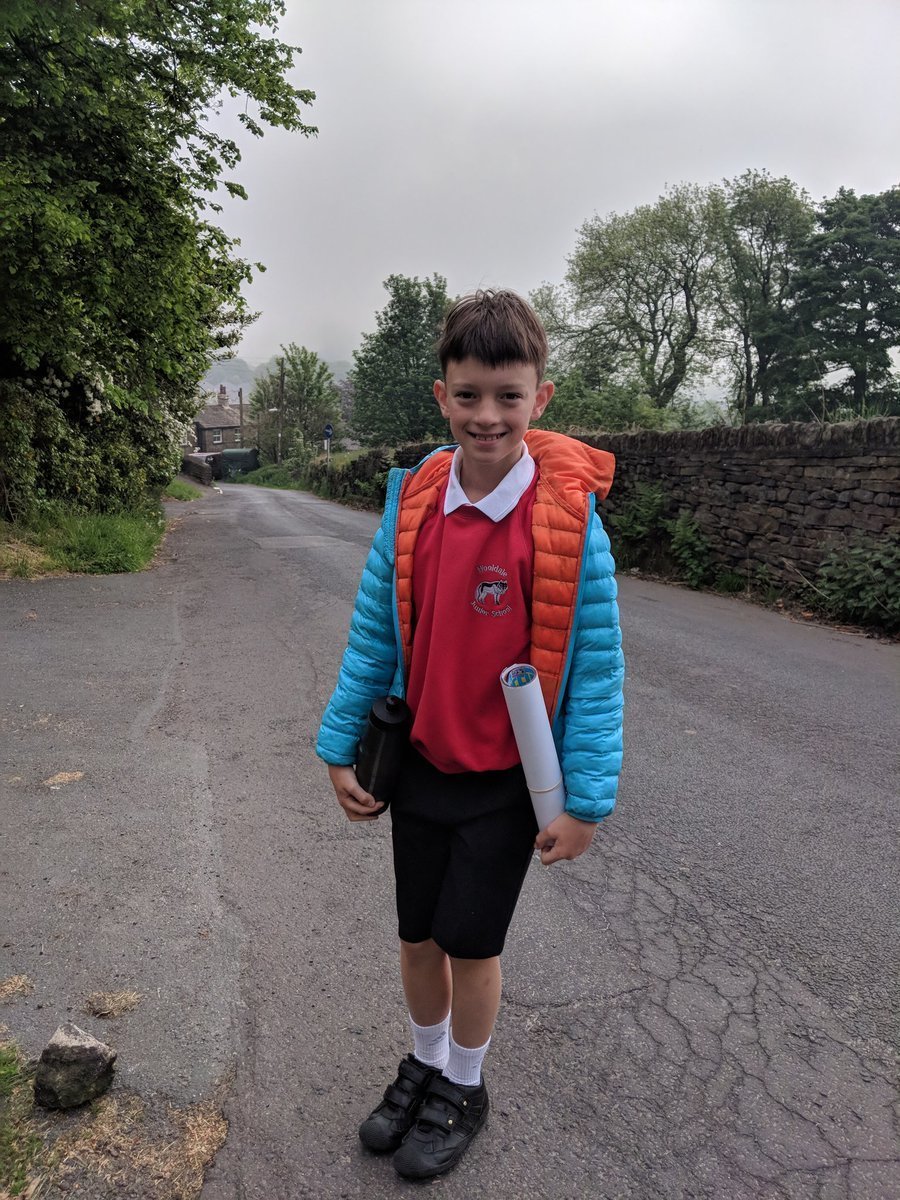 Mini Tennis 18.05.18
Well done to our keen tennis players who took part in a Mini-Tennis event held at Huddersfield Lawn Tennis and Squash Club. Schools from the Holmfirth High and Honley High families were invited to take part and activities were run by the Holmfirth High Sports Prefects.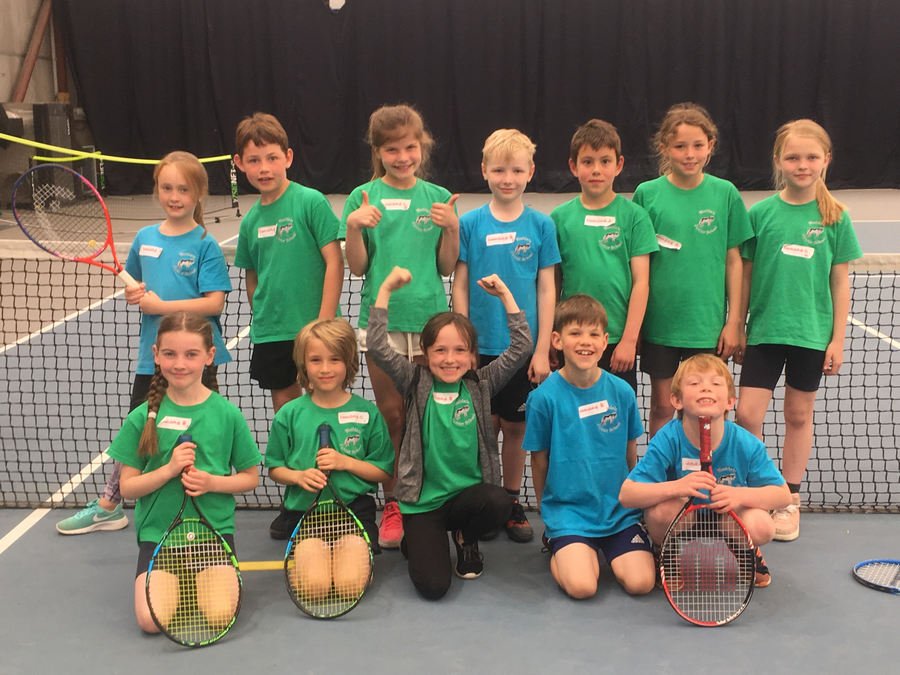 Holmfirth Folk Festival 14.05.18
A big well done to our brilliant Folk Dancing Club who showed off their talents at the folk festival this weekend. Thank you to all the parents and staff that supported them too. You were brilliant!
Friends Of Wooldale News 23.04.18
Are you wondering what's going on at school? Well one way to find out is join our Friends of Wooldale. They now a brand new Facebook page where you can learn about all the wonderful events they are planning to raise funds for extra resources/educational visits for your child at Wooldale. Click on this link to go there... Friends Of Wooldale.
Football Tournament 17.04.18
Our A team and our B team both took part in this tournament at Holmfirth High School. Both teams played brilliantly and included new players from Year 5 and 3 female players. They all showed great determination, skill and team spirit. The B team won one match and lost three (playing other A teams) and our A team played four and won four without conceding any goals (and would have won the tournament if it were not for the points system used). Well done to everyone involved.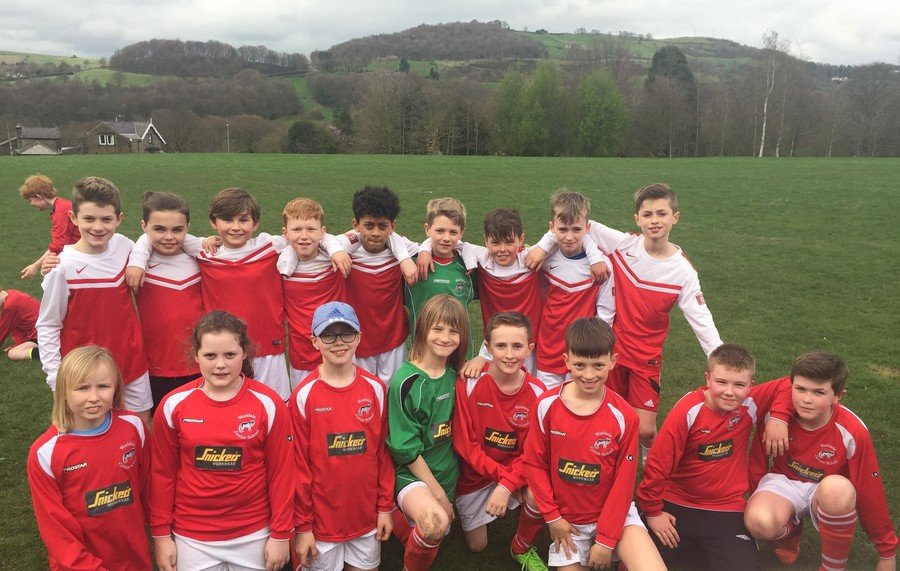 World Book Day - The Sequel!!! 27.03.18
The real World Book Day was cancelled due to snow back at the beginning of March so today we had our re-scheduled World Book Day. Everyone threw themselves into the spirit of things with some amazing costumes. See if you can name the characters below....
Wooldale's Got Talent 21.03.18
Oh yes - we have!!! The auditions and rehearsals have been going on for a while and tonight saw the Grand Final. A selection of our hugely talented pupils took to the stage in front of friends, family and our panel of esteemed judges. They all performed their socks off with acts including everything from music to magic. They made us laugh, they made us cry and everything in between. The Judges awarded Dylan first prize for his performance with "Round the World... Movies and Brass". The Audience vote went to The Year 6 Comedy Boys. A HUGE well done to everyone who has taken part - auditionees, finalists, and winners.... you were AMAZING. A big thank you to the judges, Mr Casper, and all the families involved for their support.
Feel Good Friday 16.03.18
Year 6 pupils enjoyed a range of activities at Holmfirth High School on this annually organised event which involves all the Year 6 pupils in our local family of schools. It's an opportunity for the children to get to know the layout of the high school, to meet some other children they will be in classes with in September and to try some new activities. This year there was dodgeball, art using natural objects, yoga, music, e-safety, archery and drama.
West Yorkshire Games 14.03.18
The Cross Country Team took part in the West Yorkshire Games in Leeds. There were approximately 150 runners in each race and our highest finishers were in 30-40th position. It was a great day out and the children thoroughly enjoyed themselves. Thank you to all the parents who supported this event and helped to transport the team to and from the venue. A HUGE well done to:-
Leo, Joe, Scott, Josef, Finlay, Olivia, Izzy, Maddie, Emily, Gabriella, Grace, Sienna, Madison, Jessie, Kallum, Tommy, Jamie, Ben and Conor.
Science Week 12 - 16.03.18
We've protected "Eggnauts", created and tested Hero engines, took part in the Clean Water Challenge, and camouflaged a crocodile this week!!! Here are a few photos, but to find out more check out the class pages...
Snow Days!!!! 12.03.18
Thank you for cooperating with us during all the bad weather this half term. Hopefully we have seen the last of it now but, just in case we haven't, remember to watch out for text messages before school and check here on the website to see if school is open or closed.
Cliffe House Adventures 5 - 9.03.18
Our Year 5 classes have spent a couple of nights away from home this week on their fantastic residential at Cliffe House in Shepley. A huge thank you to all the Cliffe House staff who made it so enjoyable and the wonderful Wooldale staff who gave up their own free time (and some of their sleep!) to accompany them. They have had a brilliant time. Find out more on the Year 5 class page.
Strictly Pennine Dance 28.02.18
Sixty keen Wooldale dancers took part in the Pennine Sports Partnership Strictly Dance Festival at the Lawrence Batley Theatre. They danced a routine to Justin Timberlake's "Can't Stop the Feeling" and performed brilliantly. Congratulations to:-
Phoebe, Leo, Carys, Cameron, Alfie, Amy, Lottie, Megan, Jessie, Hollie, Thomas, Shannon, Isabelle, Grace, Daisy, Gracie, Isabella, Phoebe, Charlei, Elli, Grace, Evie, Toby, Lilly, Annabel, Zachary, Angelica, Maisie, Max, James, Alice, Ava, Grace, Ruby, Neisha, Lucy, Lily, Caitlin, Niamh, Florence, Pia, Romily, Lucas, Eleanor, Erin, Esther, Joe, Abigail, Sophie, Finlay, Robyn, Abigail, Hannah, Eva, Olive, Elsie, Grace, Scott, Elizabeth and Lydia.
Mrs Sunderland Festival 19.02.18
Mrs Starrett and some of our wonderfully confident and talented pupils went to Huddersfield Town Hall during the half term holiday to take part in the Mrs Sunderland Festival which celebrates music, drama and speech. It's a very prestigious festival which attracts performers from all over the UK. Our pupils took part in the speaking and reading classes of the competition. Everyone gave their very best and Mrs Starrett was incredibly proud of them all. They succeeded in achieving two "First", four "Second" and many "Commended" results. The judges said their performances were "wonderfully lively", showed "fabulous expression" and praised them for "expression and professionalism". Well done to you all.
Sports Hall Athletics 12.02.18
A keen group of budding athletes went to Leeds Road on Friday 9th Feb to take part in the Kirklees Sports Hall Athletics Competition. Well done to everyone who took part and represented Wooldale so well.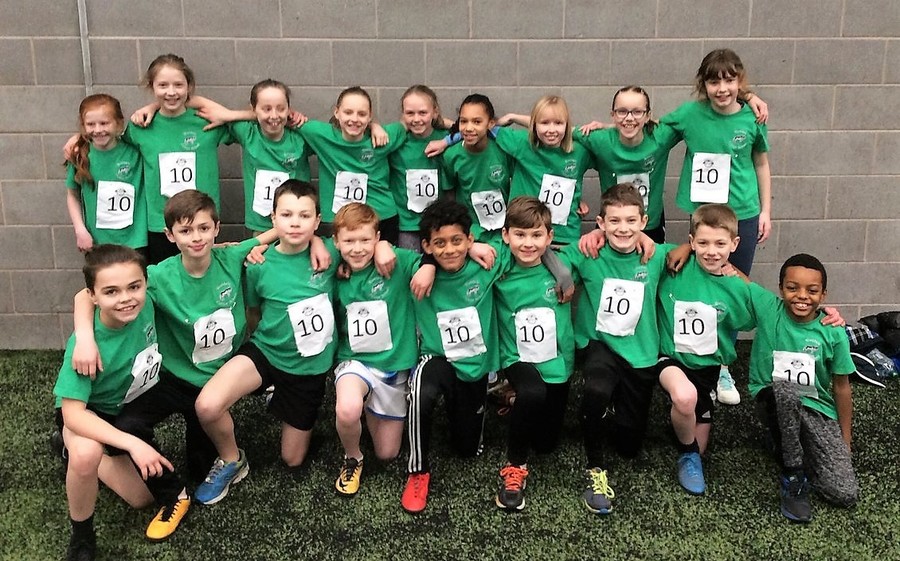 It's official.... Wooldale Rocks!!!! 05.02.18
Saturday saw our informal visit to London to see "School of Rock" starring our very own Siam as Freddy. Parents, children and staff had a wonderful time visiting London for the day and enjoying a trip to the theatre to watch Siam and his fellow cast members perform. It was very exciting and we were all very proud of you Siam.
Urgent Appeal from Friends Of Wooldale 22.01.18
FOW provide a huge amount of support to the school through their fundraising activities. Money that they raise is used to provide trips, extra resources and experiences for the children. Without their efforts school would not be able to provide these things. Sadly they are seriously lacking volunteers which means that no events can be planned at present. If you can spare a small amount of time please come to their meeting, on Wednesday 24th January at 7pm, and find out what it's all about. if you can't attend the meeting but want to know more please contact the office.The small amount of time you give could help to keep our school the amazing place it is.
Updated 29.1.18 : Thank you to those parents that were able to attend. We now have a new FOW committee in place. The next meeting will be on Tuesday 13th February at Kirkroyds.... everyone welcome.
Showing this week at a theatre near you.... 17.1.18
This Friday, 19th January, is the premier performance of "Julius Caesar" performed for your delight by the amazing acting talent of Class 6D. Watch their fantastic trailer below to find out what's in store. The curtain goes up at 2:30pm.... don't miss it!
Our visit Narnia 16.01.18
Sadly our trip to the West Yorkshire Playhouse to see "The Lion, The Witch And The Wardrobe" had to be cancelled due to terrible weather conditions. We were all very disappointed. But the fantastic news is that the West Yorkshire Playhouse have been able to reorganise our visit to Thursday 25th January..... HURRAH!!! A huge thank you to them - it can't be easy reallocating a whole school!! Now let's hope the weather co-operates!!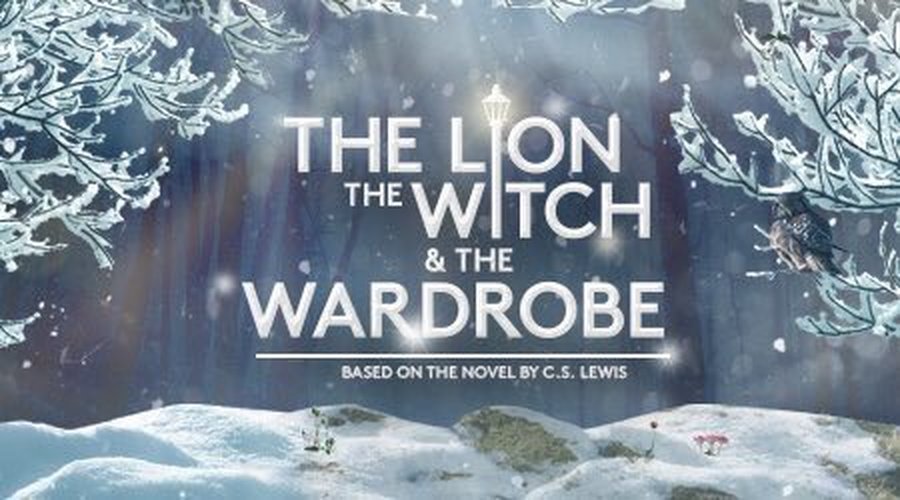 NSPCC Visit 15.01.18
Thank you to Claire from NSPCC, who visited us today to explain about the Speak Out Stay Safe program. She also explained about Buddy's Big Workout which we will be taking part in to raise funds for the fantastic work the NSPCC do. There will be another visitor from The NSPCC next week for Y5 and Y6 pupils.
Welcome Back 9.1.18
A big welcome back to pupils, parents and staff. Thank you for your continued support last term, particularly with our Ofsted Inspection. We hope you have had a wonderful holiday and that you are raring to go with what looks to be and exciting term ahead. Onwards and upwards!
Carols Around The Tree 21.12.17
A big thank you to all the parents and carers who attended the "Carols Around The Tree". It was fantastic to see everyone joining in and singing along. It really created a festive feeling for our last week of term.
Children's Carol Service 19.12.17
We had a a wonderful, festive time visiting Christ Church, New Mill. Well done to the pupils involved in the storytelling and to everyone who sang their hearts out making it such a special occasion. We all got to see our Christmas Tree on display too.
Silver Award for Wild Wooldale Buddies 18.12.17
Our keen gardeners have done it again! They have just received the Silver Award status from the Soil Association. It's all down to their dedication and hard work in our school allotment and the fantastic support they have received from the local community. A HUGE well done to all concerned.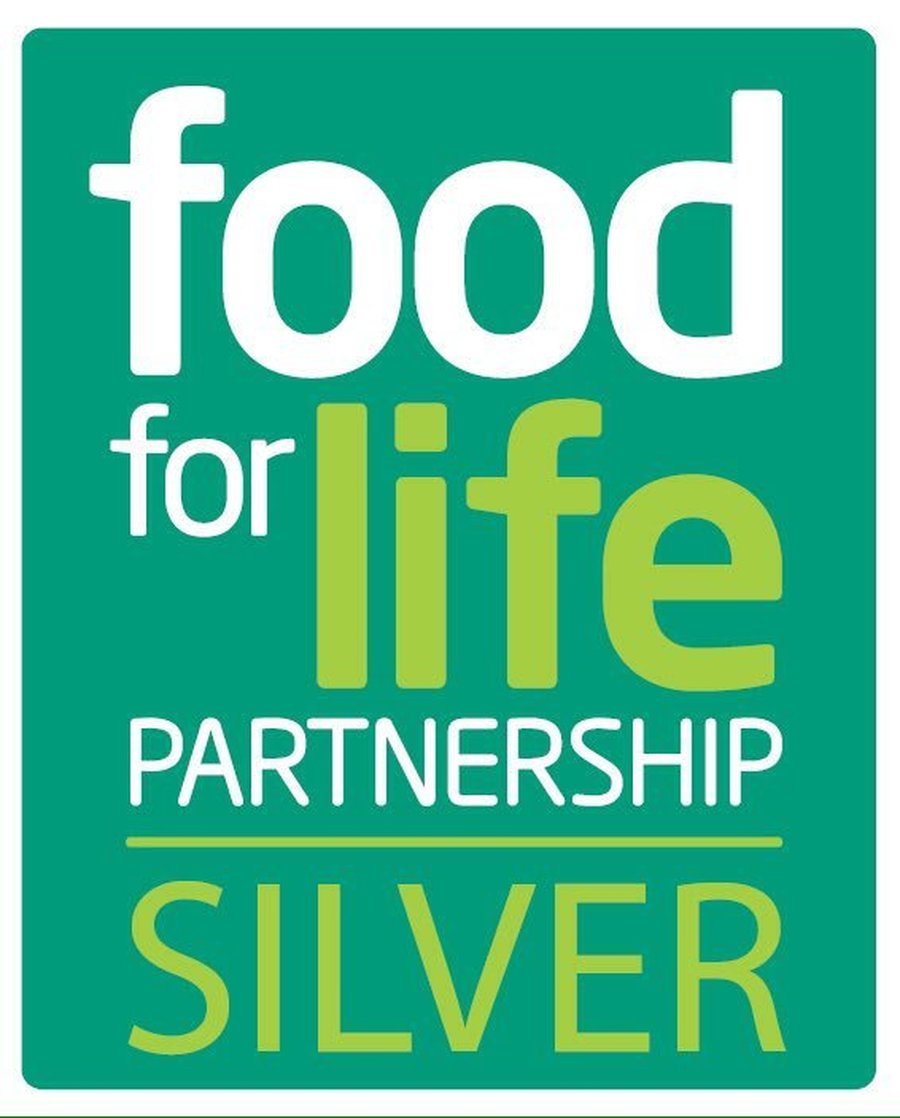 **Urgent Notice** 18.12.17
Today your child should have brought home a letter (which can also be found here) and leaflet about Ofsted visiting our school this week. Please make sure that you read it and follow this link to fill in the online survey to tell them your views and opinions of the school.
https://parentview.ofsted.gov.uk/
What's On? 18th - 22nd December
Tuesday 19th, 1:30pm - Staff and Pupils Carol Service at Christ Church, New Mill
Thursday 21st, all day - Christmas Jumper Day 1 (wear your Christmas jumper to school and bring a donation for charity).
Thursday 21st, 2:45pm - "Carols Around the Christmas Tree" (Parents and carers are invited to join us for a special carol service in school followed by mince pies and mulled wine).
Friday 22nd, all day - Christmas Jumper Day 2
Friday 22nd, Magic Jackson Show for all classes in school hall.
Friday 22nd, Last day of term.... Have a fantastic holiday everyone... see you on Tuesday 9th January.
Are you ready to visit Narnia???? 18.12.17
Have you been into our entrance hall recently??? It's starting to look a lot like Narnia and we are getting VERY excited about our upcoming trip to the West Yorkshire Playhouse to see The Lion, The Witch And The Wardrobe". Thank you to Holmfirth Fabric Mill Shop for the donation of the cardboard tubes.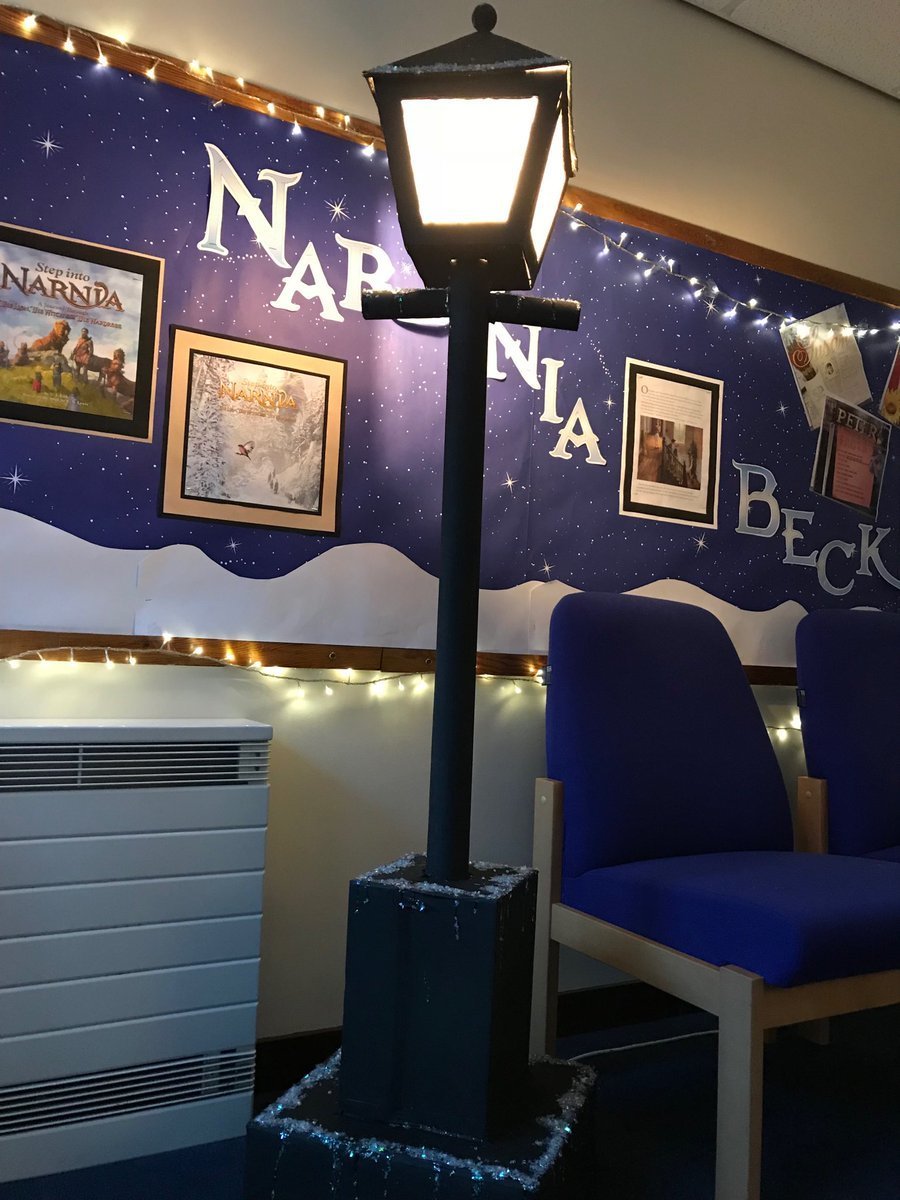 Roast Dinner Day Update... Again!!! 12.12.17
Our Wild Wooldale Buddies have done it again... with their fantastic year round hard work and brilliant movie they have won a mini poly-tunnel for our school garden. Thank you to Food For Life and First Tunnels... we are really looking forward all the delicious fruit and veg we can grow in it!!
Movie Premier!!! (Roast Dinner Day Update) 6.12.17
Our Wild Wooldale Buddies have made a film to explain all about food miles and Food For Life Roast Dinner Day. Quick get the popcorn out...
Community Christmas Tree Festival Update 4.12.17
Our recycled tree has been decorated with the help of the Wild Wooldale Buddies and is now on display at Christ Church, New Mill in their Christmas Tree Festival along with many more. It's well worth a visit if you want to get that festive feeling.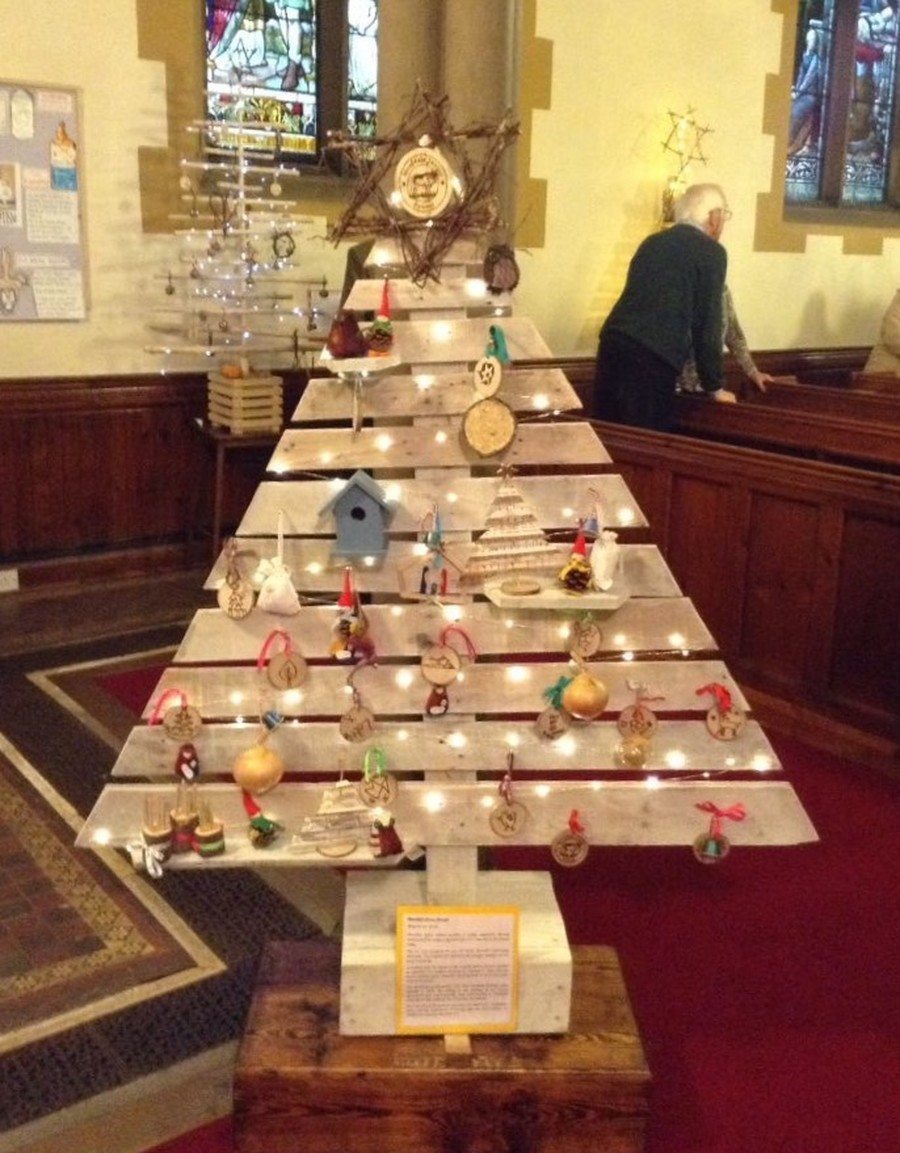 Wooldale Does "Bake Off" 17.11.17
Our hugely popular version of "Bake Off" was held again today for our Children in Need "Spotacular". It was open to any pupil who wanted to take part and the delicious results were sold off afterwards at our bake sale with the proceeds being donated to Children in Need. I think we might have some future "Bake Off" champions in the making.Check back soon to find out how much we raised and a huge well done to you all.
Roast Dinner Day 2017 15.11.17
Today was Food For Life Roast Dinner Day and our catering team, aided by the hard work of our Wild Wooldale Buddies, cooked up a delicious roast dinner for pupils and guests. Even Mrs Wood put on an apron and joined in!! The Buddies have spent all year planting and growing some delicious fruit and veg which was cooked and served by our lovely school chefs. It was a truly delicious and nutritious meal - all with minimal food miles too, so better for us and our environment.
Walker Morris Calendar Competition Winners 10.11.17
Some of our keen artists have been lucky enough to be selected to have their pictures made into next years Walker Morris calendar and they are off to the presentation evening to receive their prizes. A big thank you to Mrs Starrett and Miss Hilton for running the Art Club and organising the competition entries and well done to all our amazing artists.
Community Christmas Tree Festival 8.11.17
Wooldale is joining forces with Christ Church, New Mill by taking part in their Community Christmas Tree Festival this year. We have chosen our recycled Christmas Tree and now we have to decorate it. You can see some of our competition in the pictures below. Check back to find out more about our tree.
Autumn Fair 14.10.17
Many thanks for all your generous donations for the Autumn Fair and for coming along on the day and making it such a successful event. A big thank you too, to all the volunteers who manned stalls and games, painted faces and served lunch. The amount raised was over £2,300 - fantastic!!!
Special thanks to the Friends of Wooldale team for all their hard work organising this event. They will be holding their AGM in November and desperately need new members to be able to continue. The funds they raise enable school to provide many extra resources and activities for the benefit of all the children. watch out for the date of the AGM and please lend your support.
The Big Soup Share 3.10.17
Today we took part in RHS Schools Big Soup Share. Some of our Wild Wooldale Buddies harvested and prepared vegetables which were made into leek and potato soup, which was then shared at lunchtime. They also prepared some freshly baked bread sticks too. It was truly delicious...
Cross-Country Success 2.10.17
Last week six teams of keen Wooldale runners took part in the first round of the Honley and Holmfirth Pyramid Cross Country Competition. There were eight races in total with six of them being competitive. Wooldale won four races and came second in another - well done to all involved, it's a fantastic achievement. George said "It was a bit short but it was really good fun". Five out of our six teams are now through to the second round which will take place at Leeds Road.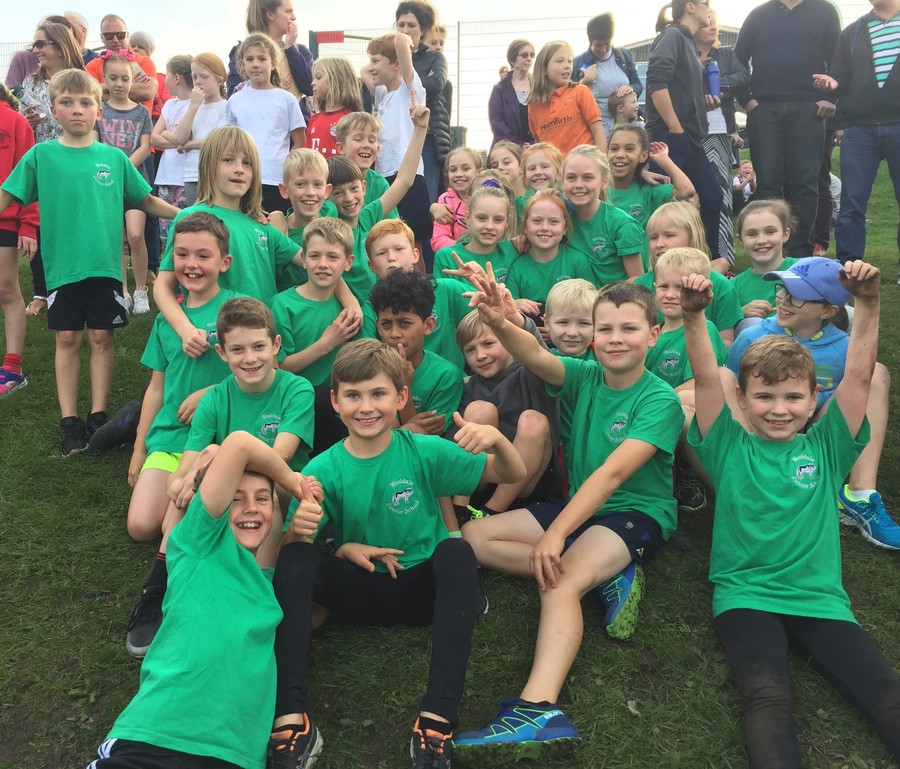 Macmillan Coffee Afternoon 29.9.17
A huge thankyou to everyone who supported our Macmillan Coffee afternoon. There was tea, coffee and cakes galore. UPDATE:- we raised £289 for Macmillan!!!
Co-op Community Day Update
Many thanks to everyone who came and joined in with the fun and a huge thank you to the Co-op for organising it all. We raised over £400 for school funds.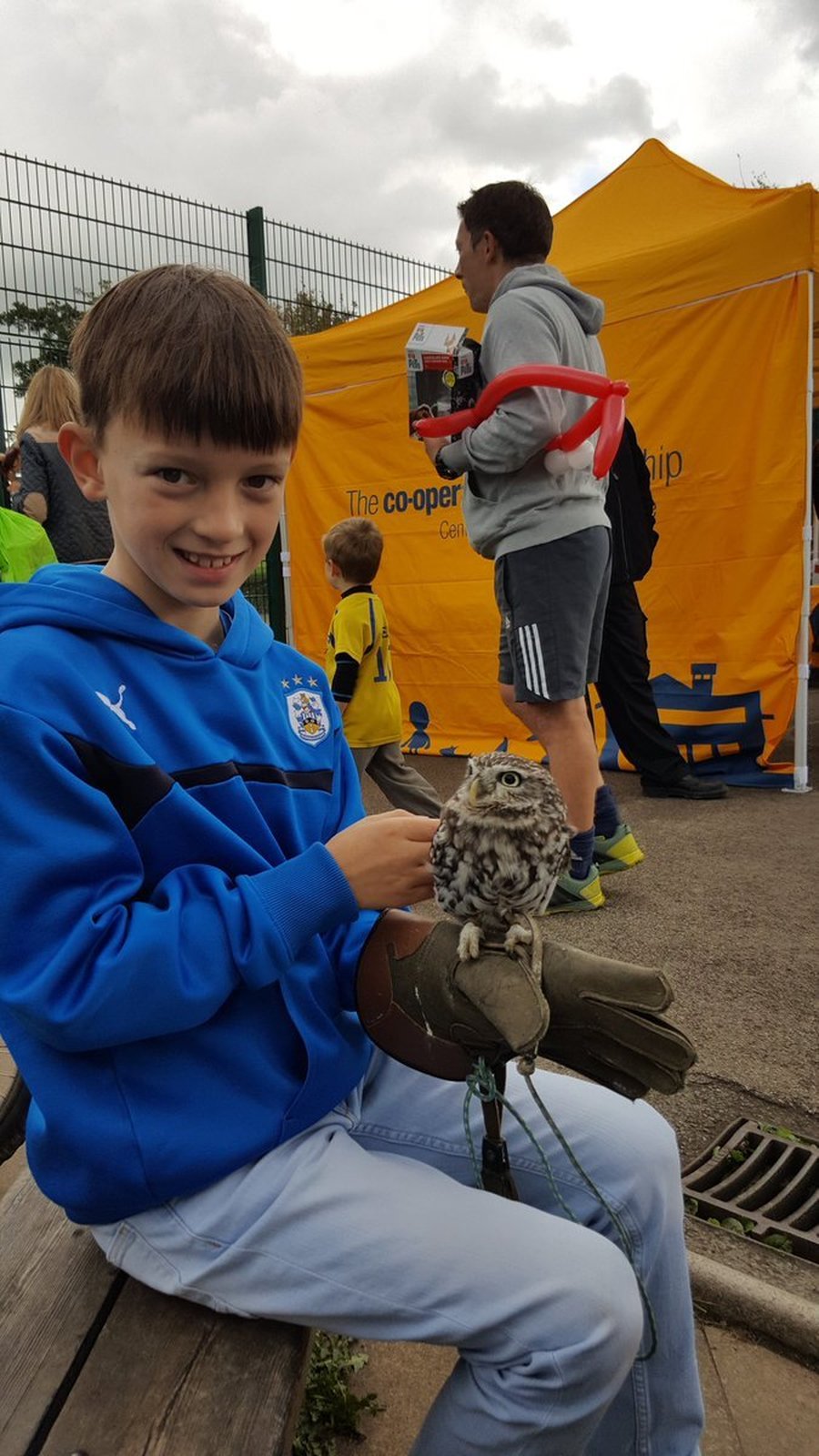 Co-op Community Day 12.9.17
Come and join in the fun and games on Saturday from 12pm until 4pm. There will be food and drink, fun and entertainment, games and a visit from the Yorkshire Owl Experience. Looking forward to seeing you all there!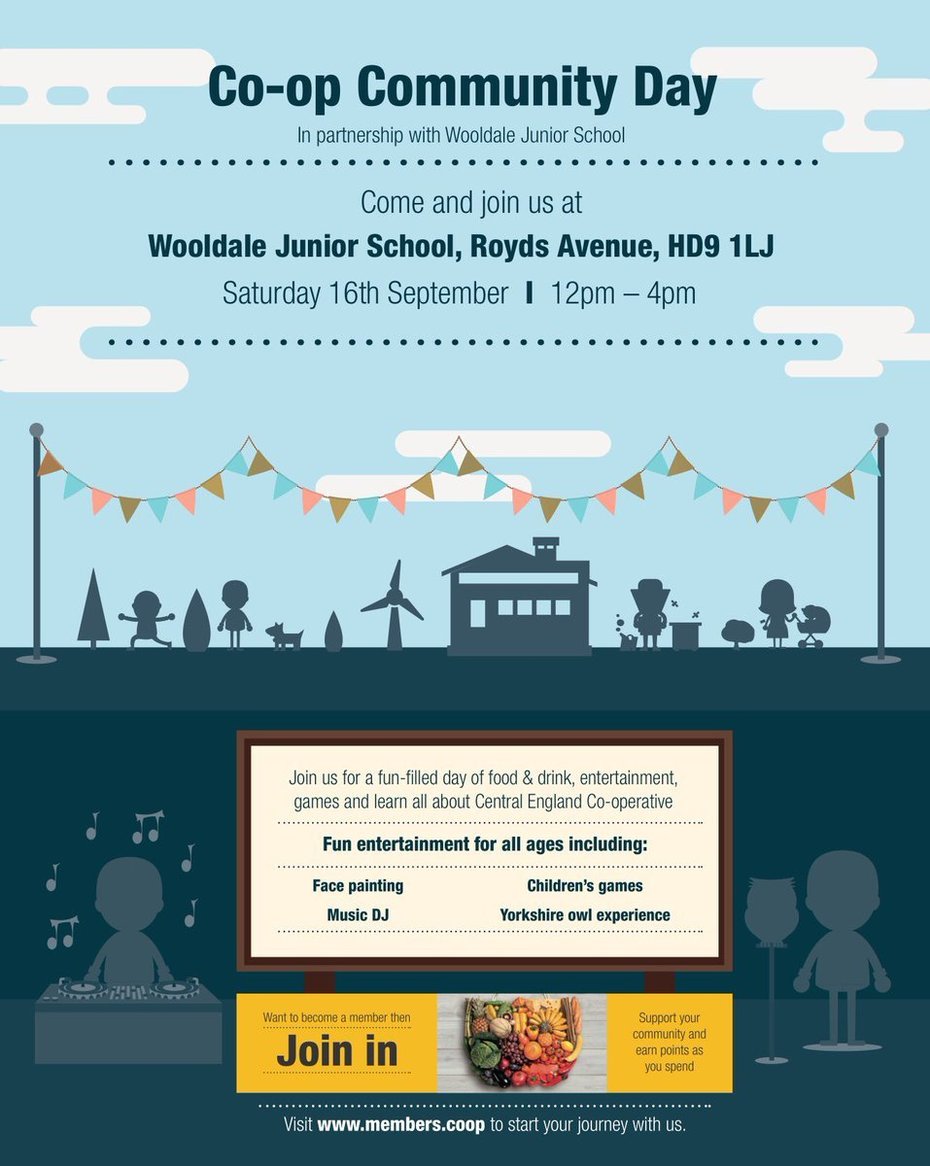 "Break a leg" Siam!!!!
Oh, my goodness, we are so excited for Siam!!! He has awesome drumming skills and has been chosen to go to London to take part in...

It means that he is going to be really busy and we won't see him for a while but we wish him every success and hope that he has a fantastic time. You can read more about it here and here.