Phew! What a fantastic year for Wooldale. Start at the bottom of this page and scroll upwards to see our achievements in date order. Enjoy!!!
Sports Day Friday 21st July
We braved the wind and the grey skies to have a brilliant Sports Day. Mr Palk organised it all for us - thank you Mr P! We had a selection of activities in the morning, including a tug of war and a noughts and crosses race, then more competitive races in the afternoon, including a relay race and a sprint. We even got to have a treat.... ice cream!!!
Super Salads Friday 21st July
All around the school, outside and inside every classroom, we have been taking part in "Grow Your Own Salad". Mr Locke and the Wild Wooldale Buddies provided us with planters and seeds to get us going. Today we harvested some for our lunch and this is just the start.... there's loads more to come!!
Walker Morris Calendar Competition Tuesday 18th July
Wooldale's entries are now winging their way to Walker Morris via Royal Mail. How exciting!!! This competition runs every year and gives our young artists the opportunity to see their original works of art published in a glossy calendar. They also have the chance to win some useful prizes for themselves and school. Fingers crossed for this year now!!!
Home-grown delights Monday 17th July
Way back in the year, after the success of "Wooldale's got Spuds", our gardeners planted lots of potatoes and today they harvested some of them. Mrs Roberts got her hands on them and, with some keen Wooldale chefs, they were turned into a delicious warm potato salad dressed with mint, chives and wild garlic also from our allotment. It was delicious.
Our new-look Co-op Friday 14th July
Our two local Co-op stores have recently been refurbished and updated. Two lucky pupils had the opportunity to go and open one of them today....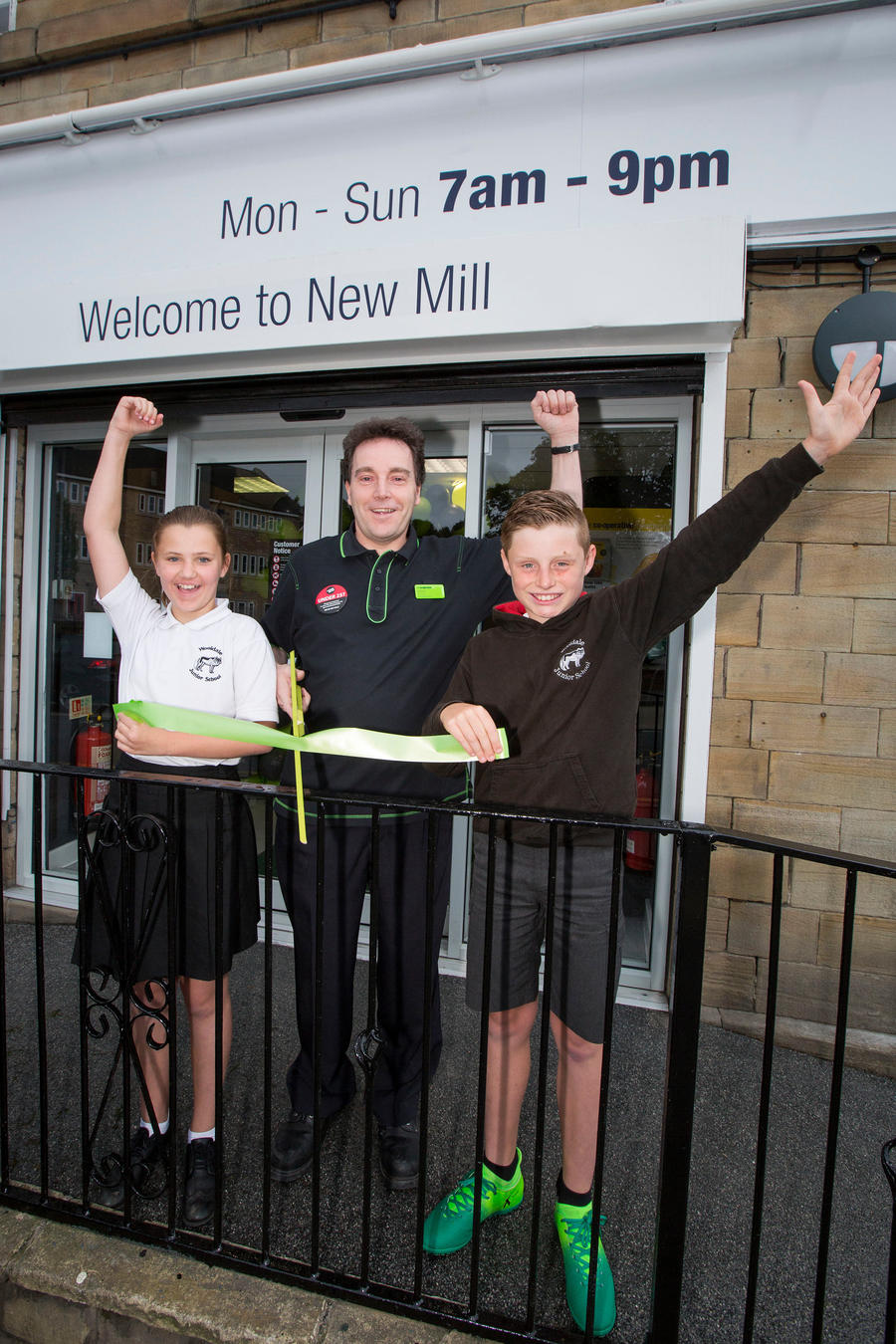 Year 3 Assembly Friday 14th July
Year 3 have been practicing hard this week and Friday is the big day. They have made a movie trailer to tempt you all to come and find out more....
Success at the Art Exhibition 10th July 2017
The Holme Valley Schools Art Exhibition, which ran at Thongsbridge Tennis Club as part of Artweek, was as successful as ever. Organised and curated by staff from Wooldale and showcasing lots of young Wooldale artists, the exhibition raised £430 which all went to Macmillan Cancer Support. This takes the total raised since it first started to approximately £5500. A huge thank you to all the schools, children and parents who supported the exhibition - we couldn't do it without you!!!
In the news... AGAIN!!!! 9th July 2017
Those Wild Wooldale Buddies really do get everywhere!!! Now they are making the national newspapers!! Here they are in the Daily Mirror this week....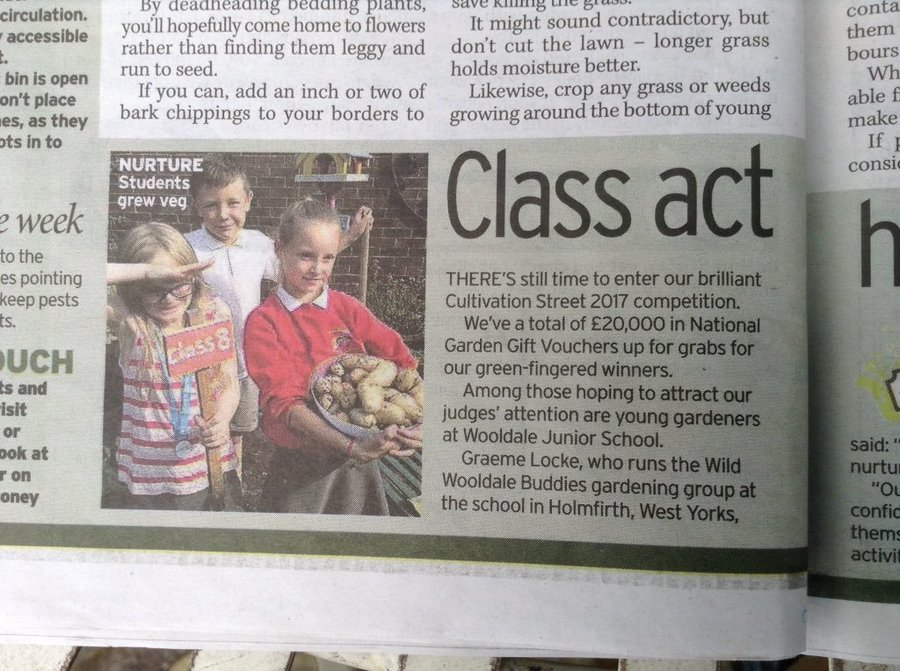 Huddersfield Examiner Schools Awards 2017 6th July 2017
Remember that we announced that our "Wild Wooldale Buddies" had been chosen as finalists in the "Healthy Living Award" catagory? Well the awards ceremony took place on 6th July and some very lucky representatives got to attend. Sadly they didn't win, but they did have lots of fun and got to meet Look North news presenter Harry Gration. Have a look at the photos below. You can also read more about it and watch some video here.
***Team Marathon Update***
Remember the team marathon back in May??? Well the fantastic news is that Wooldale pupils collected an amazing £2,035 sponsor money for the Forget-Me-Not Trust. Kirkroyds pupils raised another £1,326 so a selection of children from both schools handed over a cheque totalling a fantastic £3,361 to the charity. Forget-Me-Not Trust provide care for very sick children and their families - just think of the difference our money will make to them. That definitely makes all the hard work that was put in to training and completing the marathon VERY worthwhile.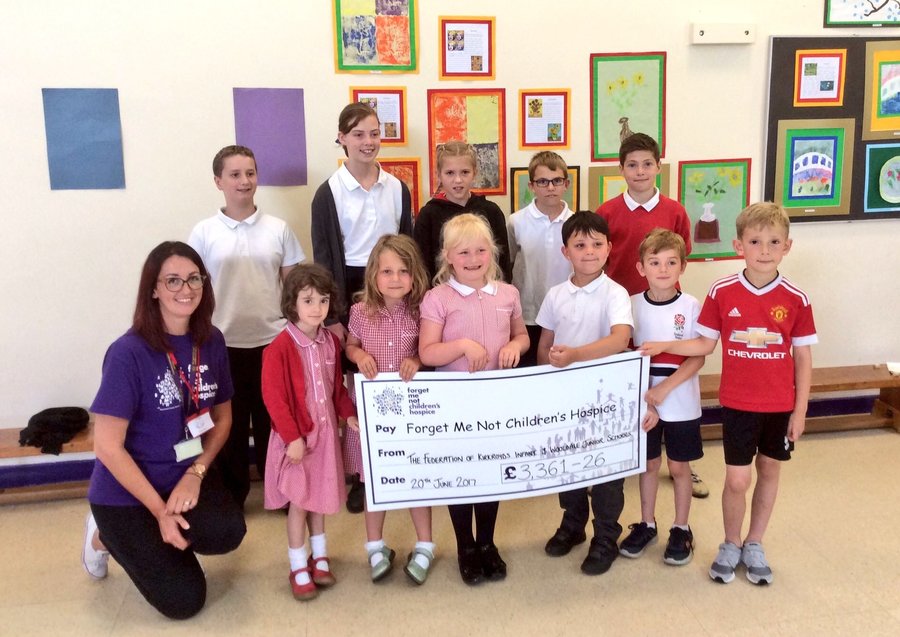 Tennis Stars - Again!!! 19th June 2017
A huge CONGRATULATIONS to our awesome tennis team. They won the tournament... for the fourth year in a row!! Fantastic!! Well done to everyone involved.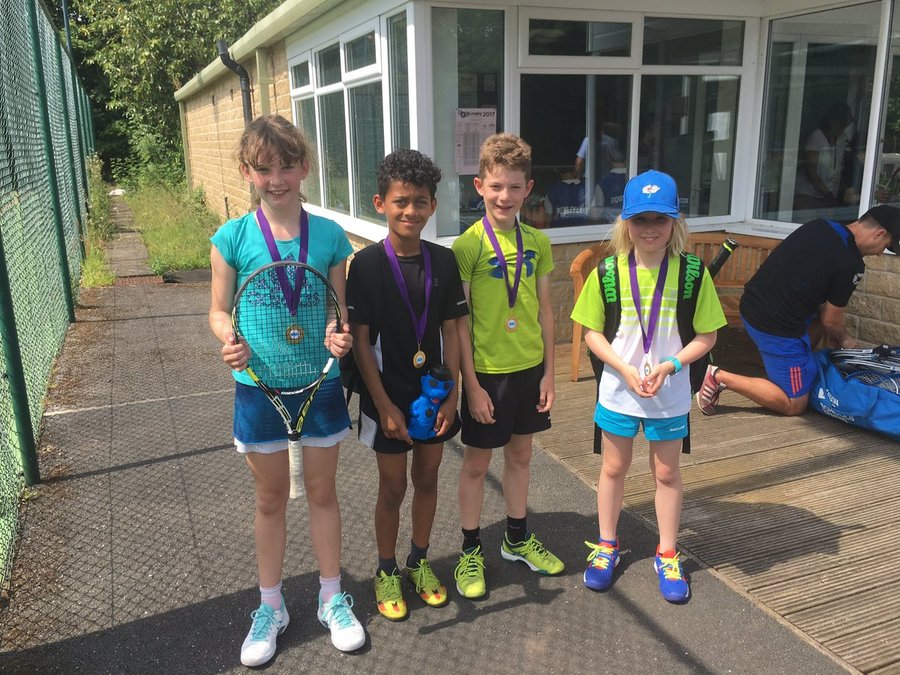 Holme Valley Schools Swimming Gala 14th June 2017
A team of pupils from Year 5 and 6 participated in a very exciting swimming gala at Huddersfield Sports Centre. The whole team supported each other and swam exceptionally well. Special congratulations to Milo, Gabby, Annie, Heath and Anya who won medals, and also to the Girls Team, who won the Lorraine Barlow Shield. Well done guys!!!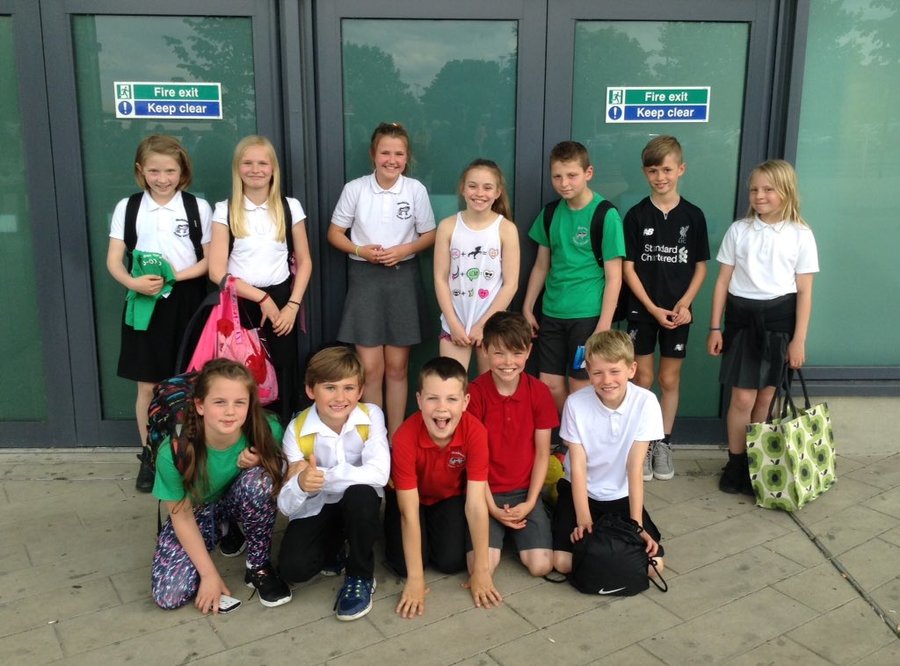 Mrs Roberts And The Wild Garlic! 13th June 2016
At Wooldale we believe that a healthy life and healthy food is very important. Mrs Roberts agrees... "Children need to be taught about food and where it comes from. The joy in their faces when they eat something they have made is priceless."
This week she has been cooking and tasting with the children using fresh, home grown herbs from our wild space and herb planters. Add in some wild garlic from the woods nearby and they whipped up...Wild garlic and herb pesto pasta (served hot) with wild garlic and herb crostinis. It was DELICIOUS.
She said "So many today said "I won't like it" or "I have never tasted fresh herbs before". Because they made it all with my help, have seen and understand where it comes from, they absolutely loved it."
Huddersfield Examiner Schools Awards 2017 6th June 2017
We are very pleased to announce that our "Wild Wooldale Buddies" have been chosen as finalists in the "Healthy Living Award" catagory. Well done guys!!!! The awards ceremony takes place on 6th July.... Fingers crossed until then. Watch this space!
Wooldale's Team Marathon 26th May 2017
More enthusiastic running! The whole school took part in our team marathon in the sunshine. Each class ran three and a half laps of the school field (which adds up to a whole marathon as a team) helped by our friends from Kirkroyd's Infant School. It was a lot of fun and all our training paid off too. We also collected sponsors for charity fundraising before we ran, so watch out for the grand total amount raised soon.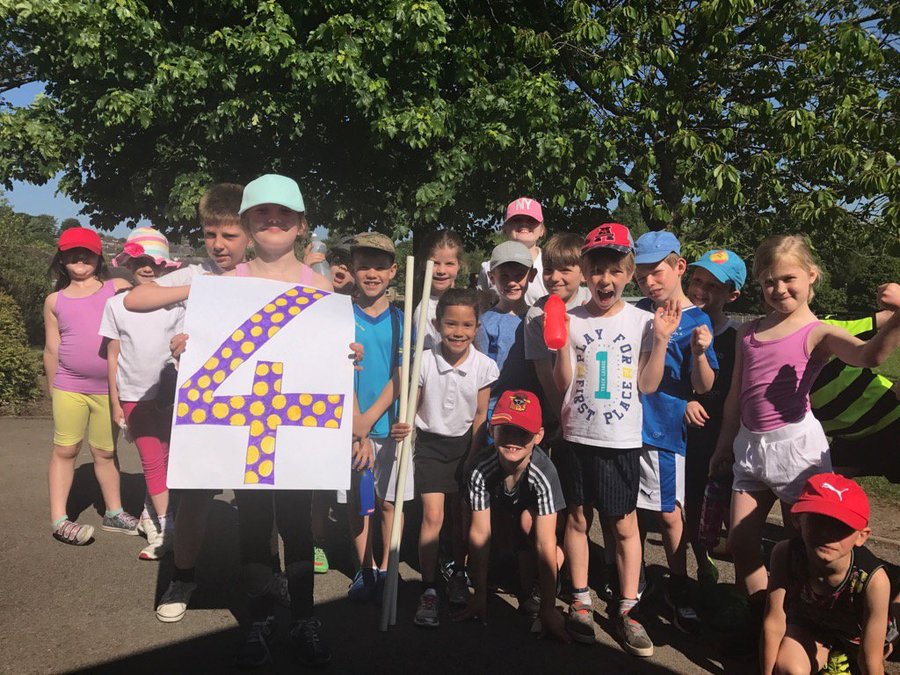 Neiley Races Begin 3rd May 2017
Enthusiastic runners from all our year groups took part in the first of three races, competing against runners from other local schools. Well done to all involved. The next races are on 17th and 24th May. Fingers crossed for those.
UPDATE
Congratulations to all our runners who took part in both baking heat and pouring rain. A special Well Done! to Ben, Harry, Kallum and Tommy, who were in the fastest 35 runners after all three races.
Under 11's Football Tournament 4th April 2017
Two mixed teams of Y5/Y6 players visited Holmfirth High School to compete in this tournament with other local schools. They worked hard drawing 3 games, winning 1 and losing 1. Tom (Y6) said "I had a fantastic afternoon. We worked very well as a team." Well done to all who took part.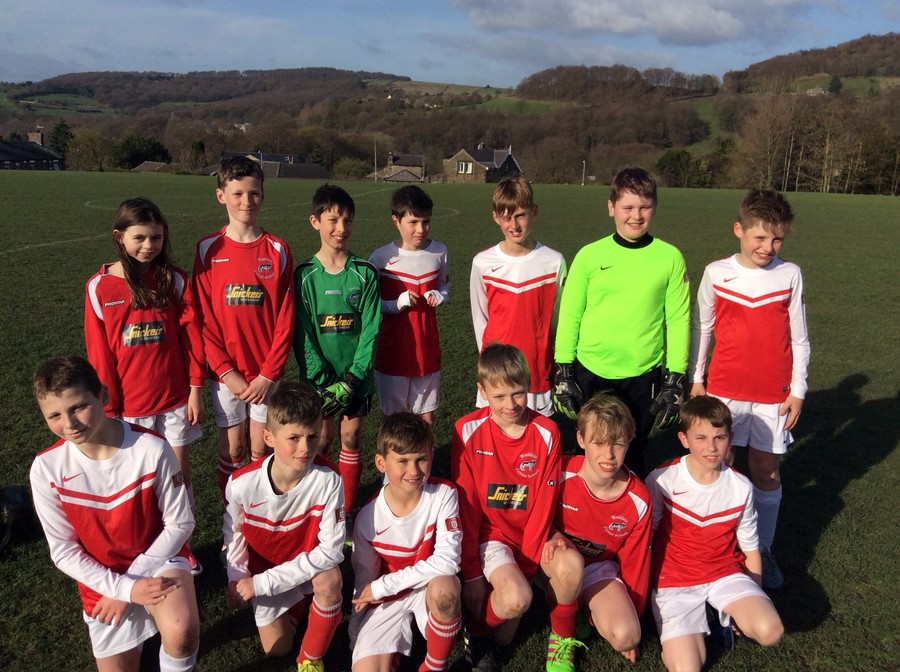 Cliffe House Adventures 20th to 24th March 2017
Year 5 had a fantastic time on their residential trip to Cliffe House. Here are a few snap shots of their adventures. More will be uploaded to the class pages very soon so check back.
Science Week 13th to 17th March 2017
Each year group investigated a different theme for Science Week this year and school was full of exciting science related activities. Who knew science could be so much fun?! Enjoy the slide show below...
West Yorkshire Cross Country Finals
The best teams and individual runners from the districts of Kirklees, Leeds, Bradford, Calderdale and Wakefield were invited to take part in this event at Temple Newsam. The course was over 1.4km and there were approximately 150 entrants in each race. Our Year 5 boys team qualified to take part, along with our best Year 5 girl, Olivia. Mr Casper went with them and said that standards were incredibly high this year and competition was fierce. Our Wooldale representatives ran incredibly well with the boys team coming first in their race. Well done Wooldale!!!!! Kallum even came 8th and will now be representing West Yorkshire in the National Cross Country Championships at Loughborough on the 25th March. Go Kallum!!!!!
World Book Day 2.3.17
How much fun did we have for World Book Day??? As usual there was the opportunity to dress up as your favourite character from a book - a huge thank you to all the parents and carers who helped with this. We had some brilliant and inventive costumes and the best girl and boy was chosen from each class. Mr Palk won the prize for best teachers costume dressed as Harry Potter... Sssshhh, don't tell Miss Wright!!! You can see some of the winners in the photos below... Well done, you all look amazing....
World Book Day was also the perfect occasion to announce the winners of some other competitions we introduced way back in November as part of a focus on encouraging reading. Find out more about these below...
World Book Day : Reading in Unusual Places
We had a challenge to see who could find the most unusual place to read with photos coming in of pupils reading on top of a fridge freezer, in a digger and on top of a motorhome!! (All under close parental supervision of course). The winner was Jacob who was very pleased with his Amazon voucher...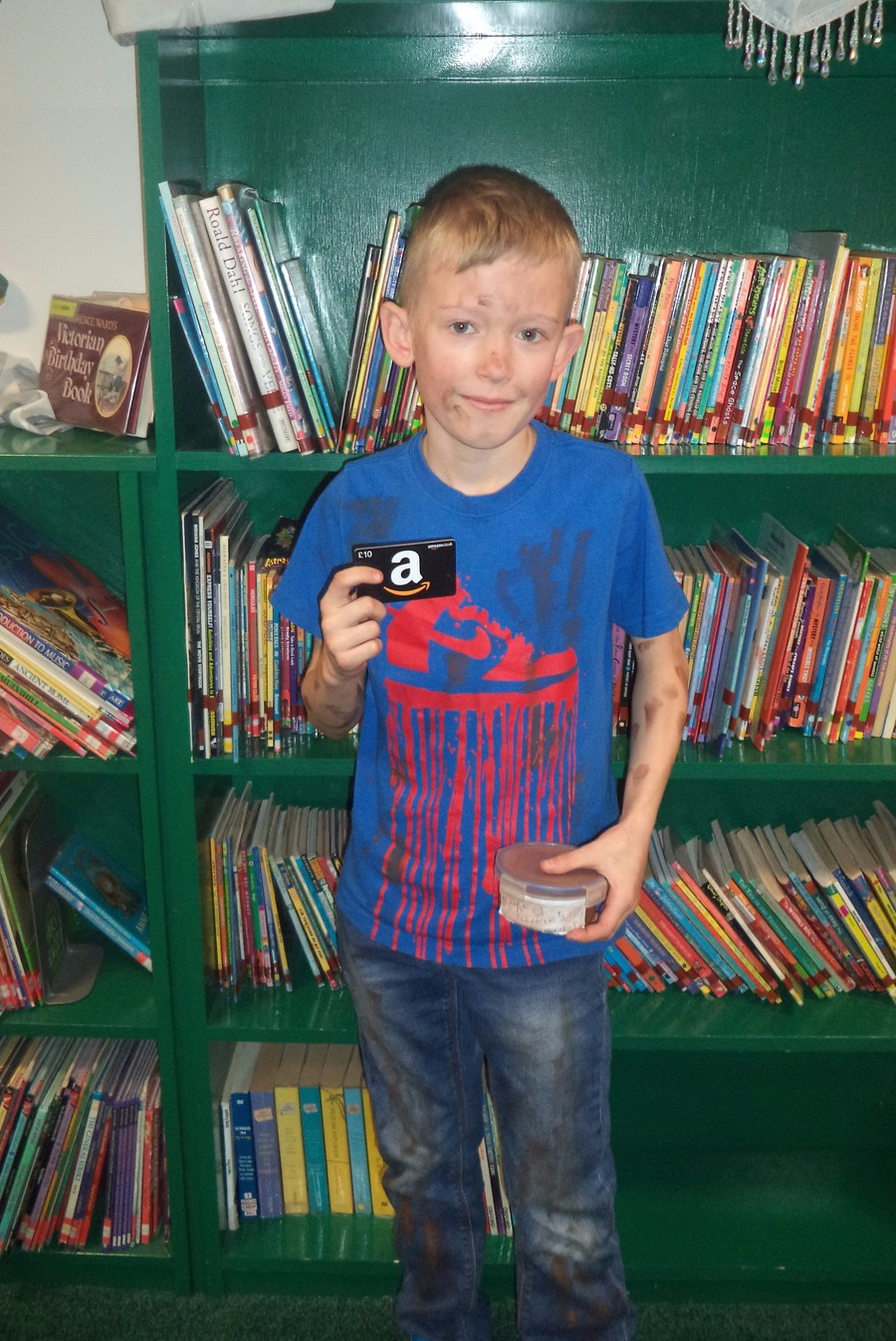 World Book Day : Rewrite a Song
The children were encouraged to rewrite the words of any well known song to make it all about books and reading. They then performed them at school and Mrs Barnes made a video of them to show in assembly. The winners below also got Amazon vouchers. Well done guys, fantastic singing and choreography too.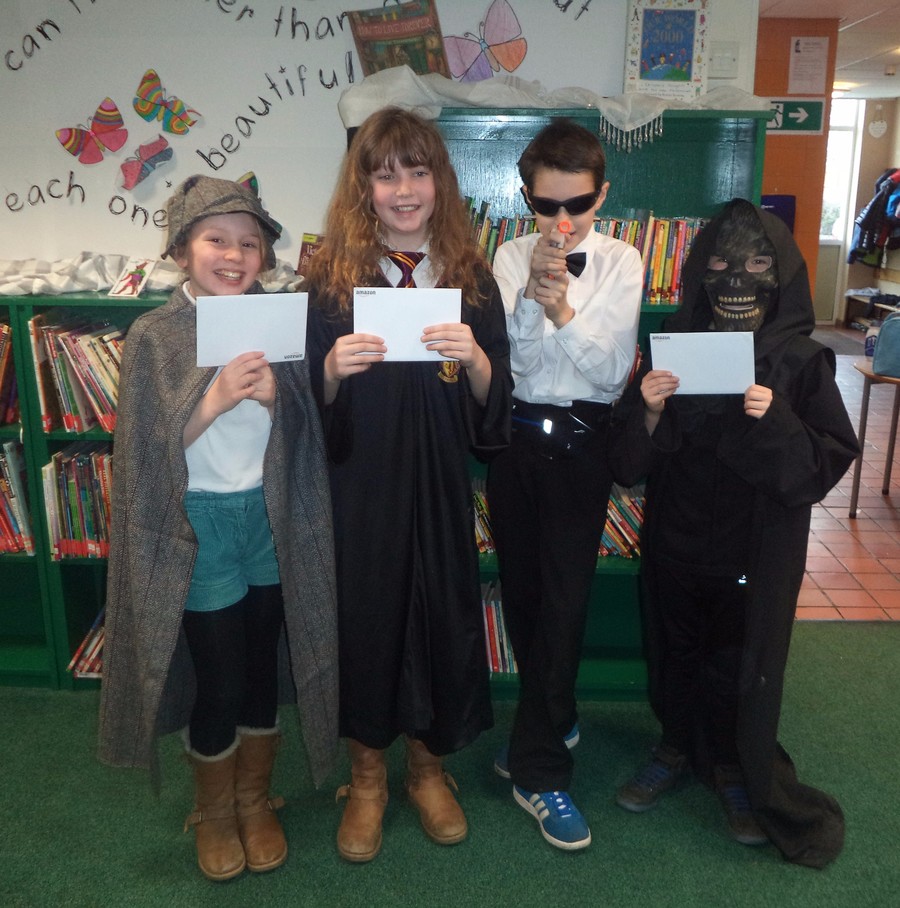 World Book Day : Read Around the World
This was also introduced way back in November and the children have been working towards it since then. They were given a Reading Passport and were encouraged to colour in one stage of their journey around the world every time they read with a parent at home. If they completed their passport they could get another and all completed passports were put into a hat. During our World Book Day Assembly, Mrs Wood pulled the winners out of the hat and they won some amazing prizes (including Kindles, Book Tokens, Tickets to watch Huddersfield Town, Tickets for Cannon Hall and many more) which they absolutely deserved for all their hard work. A huge thank you to all the local businesses who donated prizes, it wouldn't have been as good without your support. See some of the proud winners in the photo below...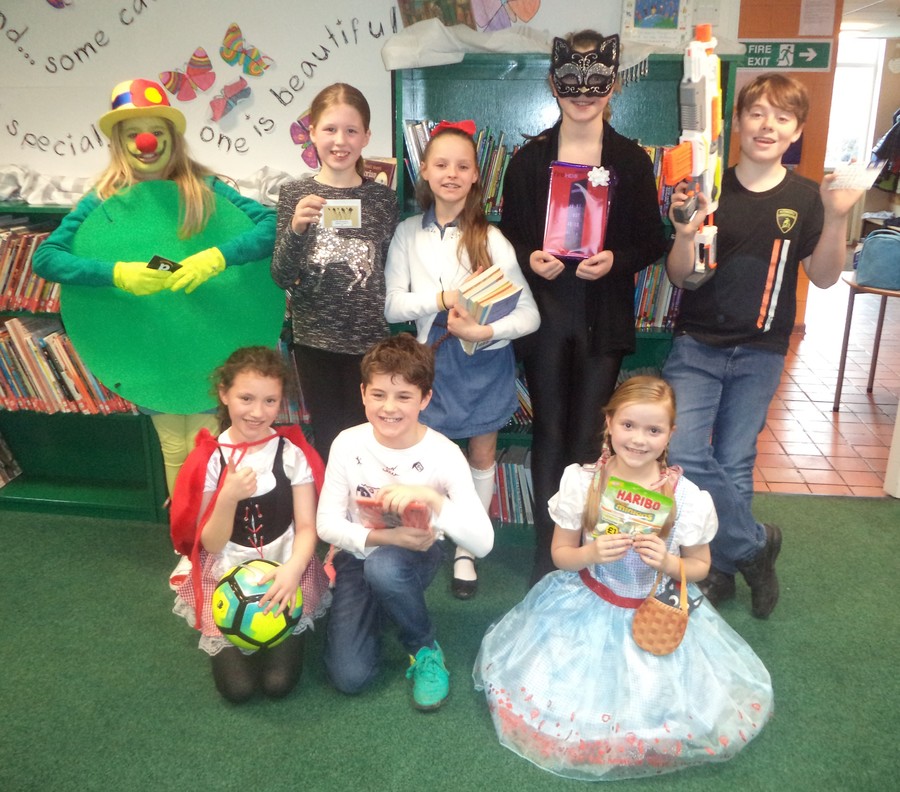 World Book Day : Decorated Doors
Each class was given the task of decorating their door for World Book Day to match the book they were learning about that day. Competition was very high for this.... a lot of the teachers were keen to win. They were all fantastic but one door stood out from the rest because it had light and sound.... Class 3 won! (Class 1 and Class 5 would just like to point out that the famous illustrator of Roald Dahl's books, Quentin Blake, has actually "liked" the tweet about their doors!!! And Cressida Cowell, author of the How To Train Your Dragon series, tweeted about Class 6 and 7's doors too!!!!!).
Gardening Award 28.2.17
Do you remember Roast Dinner Day back in November??? Well our keen gardeners wrote a fantastic blog about it on the Soil Association's Food For Life Website and won first prize!!! You can read their blog by following this link. You can also find out more about Roast Dinner Day by scrolling down this page and by going to the Wild Wooldale Buddies page.
On 28th February, Mark Crawley from the Veg Trug Company visited school to present the Wild Wooldale Buddies with their prize of a fantastic aluminium trug. Congratulations to all involved and a big thank you for all your hardwork. Now we are looking forward to some more homegrown produce grown in the trug.
Strictly Pennine Dance Festival 28.2.17
Twenty four keen Wooldale dancers performed at this event which was organised by the Pennine Sports Partnership and held at the Lawrence Batley Theatre. They had practiced and learned a routine to Meghan Trainor's "Better When I'm Dancing" and they danced their hearts out. A huge congratulations to all involved.
Community Resilience Workshop 14.2.17
Thank you to Jason Shirazi from Kirklees Emergency Planning Team who came in to work with Year 5 on flood resilience training. This was very helpful and lots of fun. They learned how to make a grab bag for emergencies and planned the safest place to build a house.
Olympic Medallist, Ed Clancy visits Wooldale 10.2.17
We were thrilled to welcome Olympic medal winner Ed Clancy to Wooldale. Ed is completing a cycling coaching award and worked with a group of pupils from the Wooldale Wheelies Club to improve their coordination and cycling skills. Afterwards he inspired both pupils and staff with a special assembly where he shared his Olympic and World Championship experiences and answered many questions from the chilldren. (Photos to follow).
Safer Internet Day
Wooldale Junior School celebrated Safer Internet Day on 7th February 2017 by having fun using our i-pads. We made a selfie photo booth and shared laughs and pictures safely!
We also designed emojis encouraging people to be positive online and spread the good feeling.

For more information @UK_SIC #giveasmile #sid2017
Wooldale does Bake Off for Children in Need 18.11.16
For Children in Need this year the children were invited to come dressed in spots. They wanted to have a Bake Sale and Bake Off Competition. The entries were AMAZING!!! Big cakes, small cakes, biscuits and cookies with many different flavours and designs. We were truly impressed with the amount of work that had gone into it all and we raised a wonderful £450 all for Children in Need. Here is a selection of the baking that was brought in. You can see more on many of the class pages too...
Each class voted for their favourite design and they were brought to assembly. They were then tasted by our very own Paul and Mary - Mrs Roberts and Mr Lock. They said the standard was incredibly high and all the cakes were wonderful. The lucky winner was Joseph from Class 1...
Roast Dinner Day 2.11.16
Wooldale took part in the Food For Life Roast Dinner Day at the beginning of November. Our amazing Wild Wooldale Buddies spent all year planting and growing some delicious fruit and veg which was cooked and served by our lovely school chefs. Guests were invited to sample the delicious meal and everyone was very impressed. Read more about it on the Wild Wooldale Buddies page and check out the pictures below...
Autumn Fair 15.10.16
We raised just over £2600! Brilliant! A huge thank you to all the families who donated items for the Autumn Fair and attended on Saturday. There was a lovely atmosphere and the children seemed to be having lots of fun! Thank you to the committee of the Friends of Wooldale, who worked so hard to ensure the day was successful.
Macmillan Coffee Afternoon 7.10.16
Thank you to all those families, who contributed cakes and came to eat them during our MacMillan Coffee Afternoon. The event proved to be very busy – we apologise for the long queues - and we raised over £370.50. Thank you.
Cross Country
Congratulations to all the children who participated in the cross-country event at Holmfirth High School. Special congratulations to the following pupils, who qualified and ran in the Huddersfield finals last week:-
Year 5 boys team: Kallum, Ben, Tommy, Shalome and Harry.
Year 6 boys team: Leo, Harry, Jack, Callum and Fraser.
Year 6 girls team: Elizabeth, Chloe, Molly, Kate, Hayleigh and Olivia.
We are now waiting to find out if any of our teams will be running at the West Yorkshire Games in the spring.
Pennine Sports Presentation Evening 3.10.16
Congratulations to all our pupils who were involved at the Pennine Sports Partnerships evening of celebration, which took place on the 3rd October. We are so very proud of their achievements in 2015/16.
Well done to all the pupils involved and to Wooldale for winning the Leadership School of the Year!
Have a look at the photos below..
Y3/4 Trips to Bagshaw Museum 27 to 30.9.16
As part of their topic on Ancient Egypt, our Y3 and Y4 classes all visited The Kingdom of Osiris exhibition at the Bagshaw Museum in Batley. They also exercised their archeological skills by excavating and identifying artefacts. The highlight of the trip was preparing a "body" for an Egyptian burial which included removing the vital organs and mummification. There is a small selection of photos below. You can find out more on the Class pages... click on the "Come and meet us" tab at the top of the page.
Alex Fellowes visits Y6 19/20.9.16
Actor Alex Fellowes returned to Wooldale to host a workshop with our Y6 classes. The theme of the workshop was Shakespeare's "The Tempest".
Dare to be Different 15.9.16
Dare to Be Different is an inspirational initiative to encourage girls into Science, Technology, Engineering and Maths jobs. Ten Year 6 girls were invited along with 9 other schools to a race track in Manchester to race karts, build a hovercraft, and try their hand at presenting with a real Formula 1 presenter. They will be using their knowledge and enthusiasm to run some activities in school so keep your eyes peeled!
Welcome Back!
Welcome to our new school year 2016-2017 and welcome to our new look website. We will be adding and changing things as the year goes on so please check back often and feel free to contact school with any requests, suggestions and ideas for us to try. We are always open to suggestions. (September 2016)