A Special Visitor 5.7.19
Today we had a very special visitor. Our local MP - Thelma Walker - came into school to see us. She met with our School Council Representatives and Mrs Bounds. Later she held an interview type assembly for the whole school. She seemed to enjoy herself and appeared to feel very at home but then she did used to be a teacher at Wooldale several years ago. We learned a lot about what it is like to be a politician and heard some exciting news about events which will be happening in the new school year. Thank you Thelma.... we enjoyed your visit.
All's Fayre!!! 17.6.19
A huge thank you to everyone.... staff, pupils, parents, carers and friends, who helped or supported our Summer Fayre in any way. It was a big success.
Here Comes The Sun..... 14.6.19
The school has been a hive of activity. Everyone has been making things in preparation for our Summer Fayre. Each class has been assigned a stall and our young entrepreneurs will be offering lots of exciting things to buy and lots of fun games to play. Please join us and share the fun between 12-3pm on Saturday 15th June. Everyone is welcome and all funds raised will be used to benefit our pupils.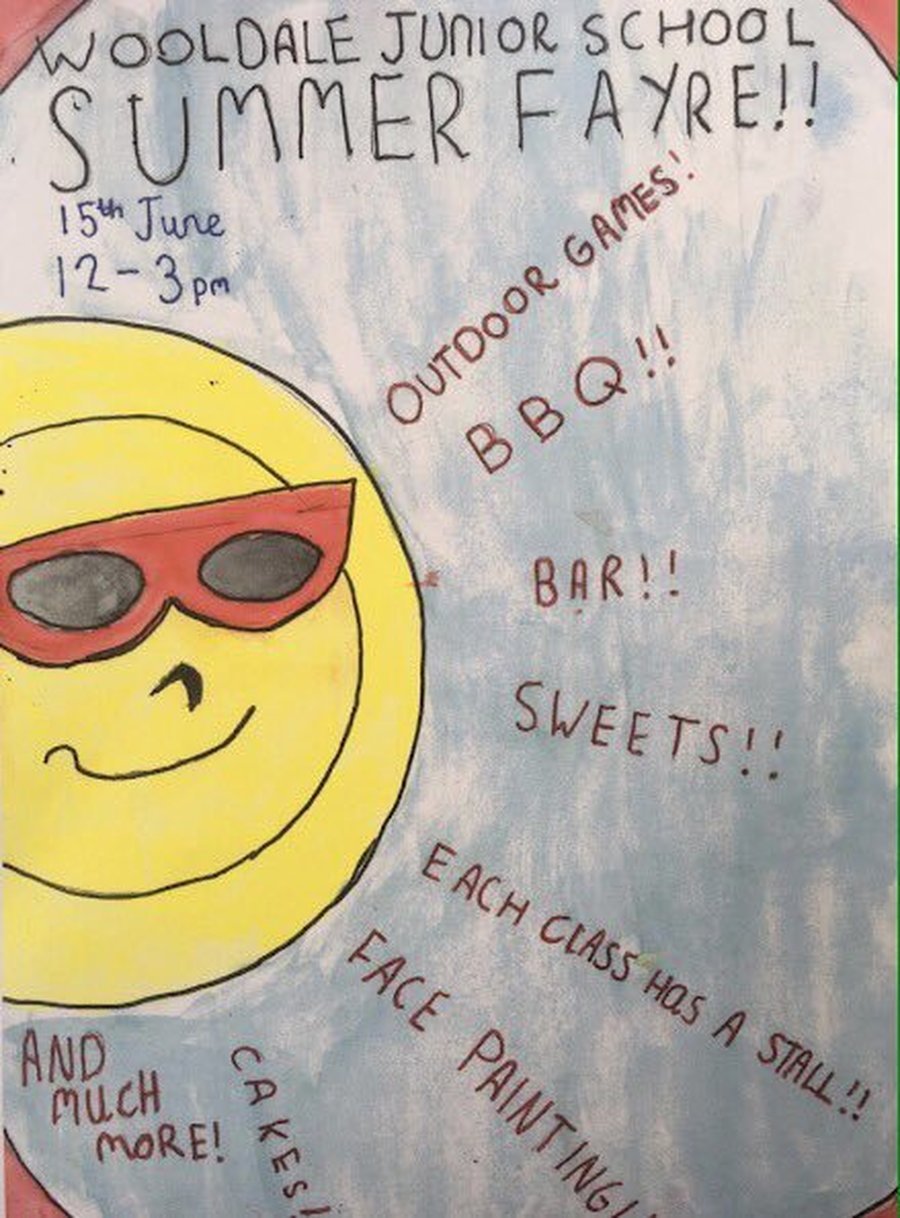 SATs Week 2019
A huge well done to all our Y6 pupils. They have worked their socks off this week to complete their SATs assessments. All finished now... onwards and upwards!!!
New Beginnings... 3.5.19
Welcome back to a very short but busy half term. We hope you had an excellent Easter holiday and that you are relaxed and refreshed and ready to throw yourself into everything this half term will bring. Coming up soon we have the Festival of Folk, the Year 6 SATs and the Wooldale Team Marathon.... Exciting stuff!
We want to give a very warm, Wooldale welcome to Mrs Aaron-Abel our new Interim Headteacher. She has come to us from Millbridge Junior, Infant and Nursery School and has lots of experience. We are looking forward to working with her.
And..... relax!!!! 12.4.19
After a week of celebrations and fond farewells we have, sadly, said goodbye to Mrs Wood. There have been tea parties with lots of cake and special visitors, and special assemblies to make the experience truly unforgettable.
Mrs Wood became Headteacher at Kirkroyds in September 2002 and Head of our Federation in January 2013. We will all miss her very much but wish her well in her retirement. We hope she will spend lots of time doing her favourite things... walking her dog, reading and visiting France, but we also hope she will come back and visit us soon. GOOD LUCK MRS WOOD!!!
Tea Party Planning.... 22.3.19
Mrs Wood, our Headteacher, is retiring at Easter. We would like to let you know about the activities we are planning to mark her retirement.
Mrs Wood has been involved in the education of children in our area for a long time. She first started to work as a temporary teacher at Kirkroyds Infant School in 1993, four years later she left to become deputy head at Shelley First School. In 2002 she returned to Kirkroyds to become Head Teacher, and then in January 2013 Kirkroyds Infant School federated with Wooldale Junior School and Mrs Wood became Head Teacher of both schools.
We are holding an open day on Thursday 11th April at both Wooldale (in the morning) and Kirkroyds (in the afternoon) and would like to invite all parents, former parents, former staff or anyone who would like to come to wish Mrs Wood well.
If you would like to contribute to a gift from parents and children for Mrs Wood please send in a sealed envelope to either school.
We are also putting together a retirement book so if you would like to write a message, please either call into Kirkroyds or Wooldale or email your message to office@kirkroyds.co.uk or office@wooldalejunior.org.uk
We hope you can join us to wish Mrs Wood well.
Science Week 2019 15.3.19
Wow! What a week we have had. We have made bread, butter, ginger beer, carbon dioxide, anti-bacterial agents, lava lamps and houses to withstand a flood... all in the name of science. We have investigated friction and purified water. We have observed inter-molecular forces and chemical reactions. And we have recorded and reported our results. Thank you to all the parents and carers that joined us on Thursday for the open morning - it's was brilliant being able to share our experiments with you.
World Book Day 2019 7.3.19
As usual everyone went to town with their outfits for World Book Day... you all looked amazing. There were also some new events this year:-
The Quote Quiz (see photos below) - teachers wore t-shirts with quotes on for the children to guess which book or author they were from.
Characterful Potatoes Competition - dress a potato as a character from a book.
The Travelling Book - A story was started in one class and travelled around the school until every class had added to it. If you would like to read our travelling book please click here.
Strictly Pennine Dance Festival 27.02.19
Fifty-seven Wooldale pupils performed in the Pennine Sports Partnership Strictly Dance Festival at the Lawrence Batley Theatre in Huddersfield. Miss Nuttall choreographed their routine (performed to 'Bang Bang' by Jessie J, Nicki Minaj and Ariana Grande) with help from the children. All their hard work and practice really paid off because they performed brilliantly. Congratulations to all the children involved and Miss Nuttall.
Reading with confidence (and grown ups)!!! 15.02.19
An enormous Thank You to all the parents and carers who attended our "Reading Morning". It was fantastic to see you all in school and joining in with reading activities in class. We have had some very positive feedback about the event too. Many of the activities can be recreated at home and you can find these and the Reading Morning Powerpoint over on the Literacy Resources page.
"Oliver" 30.01.19
Year 6 were invited to Holmfirth High School's production of "Oliver". Everyone thoroughly enjoyed the show which also featured many talented ex-Wooldale pupils!
Sports Hall Athletics 26.01.19
The Wooldale Sports Hall Athletics Team (Finlay, Scott, Sienna, Reuben, Charlotte, Javell, Joe, Carys, Romily, Maddie, R'Nell, Abigail, Grace, Nicole, Millie, Charlie, Finlay, Grace and Kori) successfully took part in several rounds of this competition leading up to the final on 25th January. During this final round they battled against several much larger schools but succeeded in taking Wooldale to a very honourable 7th place in Kirklees. Well done everyone.
A Message from our MP!!!! 17.01.19
Today we received an email from Thelma Walker, our local MP. In her email she congratulated the school on our improved Key Stage 2 results. She said that it was a particularly notable success in the current climate of of more demanding testing and shrinking school budgets.
Thank you so much Thelma, your message means a lot to us and it's an especially lovely way to start 2019. It is heartening to know that our hard work has been noticed. Well done to everyone involved at Wooldale, pupils, staff and parents. Let's keep going and make 2019 as successful!!!!
Christmas Treat.... "Oliver Twist" 21.12.18
A huge thank you to ArtyFact Theatre for stepping in at the last minute and entertaining us with their version of Charles Dickens "Oliver Twist". We loved it!!!!
Friends Of Wooldale News 20.12.18
FOW volunteers work really hard to raise extra money to provide equipment and experiences for all Wooldale pupils. Wondering what the money gets spent on? Wondering if you can help?? Check out their web page here and read their recent newsletter.
Bake Off for "Children in Need" 16.11.18
There is nothing we like better at Wooldale than a bake sale and our annual Bake Off for Children In Need is hugely popular. Today all the classes voted for finalists to take part. Our very own "Paul" and "Pru" questioned the bakers on techniques and ingredients, they examined, tasted and conferred with a furry friend. Eventually we had a winner!!!!
Well done to all who took part and helped to raise money for Children In Need.
Poppy Installation for Remembrance Day 8.11.18
We have installed our Wooldale Wave of Remembrance with help from our friends in Year 2 at Kirkroyds and doesn't it look great. It really brings a splash of colour to the playground when the weather is grey. We also had our own special Remembrance Day Assembly. We met in the hall to read "Where the Poppies Now Grow" by Hilary Robinson, then we went to the playground to listen to poems and readings and to have our two minute silence while looking at our poppies and remembering those who fought for our freedom.
Poppy Painting Day 24.10.18
For Remembrance Day this year we decided to create our own version of the famous Tower of London poppy installation. We are using recycled plastic bottles to do this and today was poppy painting day. Every child throughout the school painted a poppy this afternoon, aided by some very helpful friends and family. Now we need to connect and display them. Keep your eyes peeled... our poppies will be blooming very soon.
Festive Fashion and Fizz!!! 11.10.18
Join us for an evening of fun on 16th November - enhanced by a free glass of fizz - and raise funds for the school at the same time. Our PFA have worked hard to organise this and need your support to make it a success. Places are limited so contact the school office as soon as possible for tickets.
Macmillan Coffee Afternoon. 28.09.18
A huge thank you to everyone who provided cakes or attended our Macmillan Coffee Afternoon. The school hall was bursting with families enjoying delicious treats and raising money for this worthwhile charity at the same time.
Walker Morris Winners!!! 18.09.18
Every year in July Miss Hilton and Mrs Starrett enter some children's artwork into the Walker Morris Calendar competition. In September we come back to school to discover if anyone has been lucky enough to have been chosen to have their artwork made into a calendar. This year we had three winners... Edward and Scott from Year 5, Ivan from Year 6. There were also some Runner Up prizes for Oliver, Violet and Billy in Year 6 and Ryan in Year 5. These lucky few now get to go to the presentation evening to receive their prizes - A huge well done to all of you. (Check back soon for photos.)
04.09.18 Welcome to our new school year 2018-2019. It is wonderful to see so many happy, smiling faces back at school, all keen and ready to learn in our new classes. A particularly big "Welcome" to our new pupils in Year 3 and throughout the school, we hope you will love your time at Wooldale. We are looking forward to an exciting year.
There have been a few changes to the organisation of our classes in school this year which means our website needs to be updated too. We will be adding and changing things as time goes on so please check back often and feel free to contact school with any requests, suggestions and ideas for us to try. We are always open to suggestions.
If you are looking for our old "What's New" page with all the wonderful pictures and events from last year don't worry, it's still here. Please go to Achievements 2017 - 2018 to find it.