Messages of Support and Encouragement 30.3.20
Before school closed, pupils in Willow and Yew classes created postcards with wonderful messages of hope, love and support on them with the plan of sending them to local keyworkers. The fantastic news is these fantastic messages have been received and brought a smile to many faces (and a tear to a few eyes as well). You can see some of the postcards and their happy recipients in the slide show below...
Message from Mrs Barrow 25.3.20
Dear Children,
I hope you are all ok and keeping yourselves safe and well at home. I know these are strange times and it must feel very odd to be at home and yet not really on holiday and not able to go out and see your friends and family. I am sure that this and the worried faces of the adults around you and the things you are hearing on the news are making you feel anxious. That's ok, everyone is feeling a little anxious at this time and it is a perfectly normal response to what is happening around us. It is important to talk to a trusted adult if you are feeling worried and they will help to explain and reassure you. I will be sending out some information for parents to share with you that might help. You might want to write down or draw a picture of your feelings in a journal too.

All the teachers and I are missing you and your lovely smiling faces and are missing the great conversations we share and the learning we love to do together. They are all working very hard to keep in touch with you through Class Dojo and emails wherever possible so you know we are still here and thinking of you. They are always happy to hear from you and to see the lovely pictures of the work and activities you are getting up to at home. I feel like I was just getting to know you and you've all disappeared but I am sure it won't be long before we are all back together again.

It has been great to hear from all the teachers about the number of you who are having a go at the activities they have sent out. I know it must be very strange trying to do things at home and even more strange having mum or dad trying to teach you. Be patient with them I know they don't do it quite like your teacher does but believe me they are trying their best.

I know the teachers keep sending lots of new things please don't think you have to do everything they send. Just do what you can, a little bit is better than nothing and will mean you are ready to learn and go further when we are all finally back together. I also heard that sometimes the Class Dojo is not always working so teachers are trying to email you instead we are also looking at other ways of setting you work and activities while we are apart.

Your parents don't like having to say no to you meeting friends or going out to the park either but Mr Johnson our Prime Minister has given everyone instructions that they must stay at home unless they are working in essential industries or in hospitals helping to keep everyone well and well fed. Some teachers are also looking after the very small number of children who have mums and dads who work in these critical areas and trying to keep them safe too. Everyone is doing their bit and you are doing your bit by staying at home and keeping away from others.

It has been wonderful on my drive to and from school to see all of your lovely rainbows in the windows. The rainbow is a symbol of hope and a promise that there are better things ahead. Let's remember that.
I will stay in touch with you and your Mums and Dads.

Take care and stay safe.

Mrs Barrow
Coronavirus Update 23.3.20
As you are aware school is temporarily closed for the time being. This closure is intended to support efforts to contain the virus.
We are providing childcare for children of key workers and other vulnerable children at New Mill Infant School. This is to keep children safe and to allow key workers to care for the sick or to keep supply chains running. If you are a key worker but not currently at work, please keep your child at home to prevent the spread of infection to other children and staff and follow the social distancing guidelines.
Every child who can be cared for safely at home should be. If your child is not in school then follow the social distancing guidelines. Parents should do everything they can to ensure that children are not mixing socially in a way that could spread the virus.
If you are a key worker and your child or someone in your household becomes unwell, follow the the Government guidelines regarding self isolation. Do not bring them to school.
Thank you for your cooperation and continued support at this difficult time.
Coronavirus Update 19.3.20
Thank you for your patience as we try to interpret and implement the advice coming out from government
and for your support in what is becoming increasingly difficult and challenging times for us all. School will be closed to the majority of pupils after Friday 20th March.
Staff have been working hard to provide resources for pupils to use at home whilst we are closed. These resources can be found on our new Home Learning pages and will be updated as necessary as time goes on. You can contact your child's teacher through the Class Dojo system or by email if necessary.
We will endeavour to keep you as fully informed as we can but please bear with us because we are working it out as we go along.
Safer Internet Day 2020 24.1.20
11th February is Safer Internet Day. Each class has appointed a Digital Leader to support them with ICT issues. The Digital Leaders have been running a "Design Your Own Avatar" competition and will be holding an assembly in school. See our Safer Internet Day Certificate below...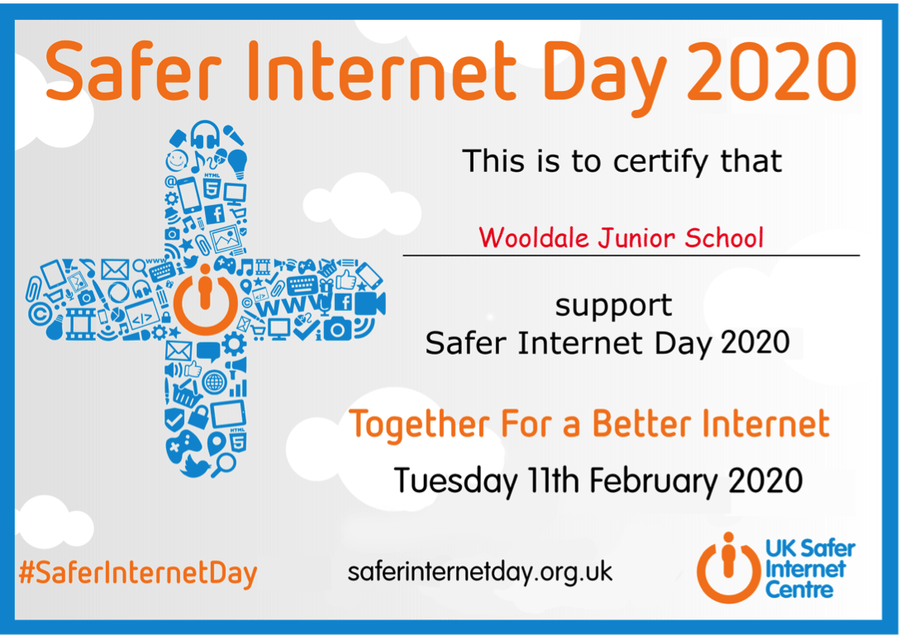 More New Beginnings... 10.1.20
A huge welcome to Mrs Buckley who has taken over Rowan Class to allow Miss Ingoe to move to Yew Class. She has thoroughly enjoyed her first week with all the friendly, hardworking pupils in Rowan.
New Year, New Beginnings, New Head Teacher 6.1.20
Welcome back to a new school term. It's looking like 2020 is going to be an exciting year for everyone at Wooldale. Our first exciting event has been meeting our new interim Head Teacher - Reverend Mrs Evelyne Barrow. Please have a look at our first newsletter of the year to find out all about her. We would like to offer her a big, friendly "Welcome" from everyone at Wooldale.
Bake Off for Children In Need 2019 21.11.19
Last Friday we held our annual Bake Off for Children In Need. This is one of the highlights of our year.Well, it involves cake, so what's not to love? Lots of pupils (and their adult helpers) worked really hard to produce some AMAZING cakes. Our resident baking experts judge the nominations from each class until an overall winner was found. And then we had a bake sale so we could all have a taste. The really good news is that we raised £588 for Children In Need (and we were mentioned on tv on the night! Did you see it?)...
Remembering others at Christmas... 19.11.19
Christmas is traditionally a time of giving. Are you able to help other local families this year? Please read the poster below to find out more...
Do you need help with Christmas?
Christmas can be incredibly expensive for families, especially those with young children. Do you struggle to cope? If you feel you could benefit from the offer of support (in the form of presents or a hamper) from the Full Life Church please contact the school office by Thursday 28th November to provide your details. This will be treated in the strictest confidence and your details will not be used for any other purpose.
Politicians of the Future??? 7.11.19
Following on from our exciting trip to Parliament we have been taking part in Parliament Week this week. Some of our Debating Club members gave speeches for the different political parties and we had our own mock election . If they get the taste for it we could be looking at a future Prime Minister here...
A Visit to Parliament 21.10.19
Today our School Councillors and other representatives visited the Houses of Parliament to learn more about democracy and how our country is governed...
Star of the Week 14.10.19
Well done to this weeks "Stars". They are shining so brightly because they have shown outstanding effort in English....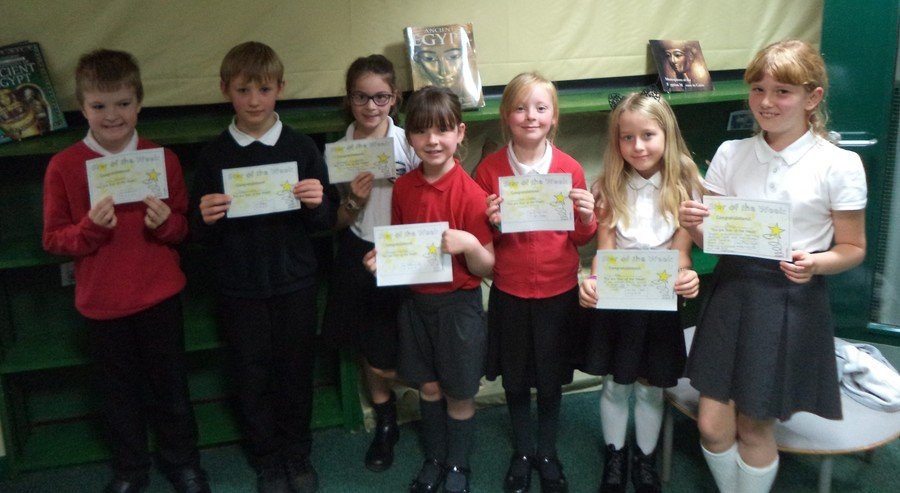 Macmillan Coffee Morning 27.9.19
A huge THANK YOU to everyone who attended our coffee morning or provided all the wonderful buns and cakes. We raised £220 for this worthwhile charity. Well done everyone.
A trip to... The Bagshaw Museum 25.9.19
Year 3 have had a fantastic time at the Bagshaw Museum learning all about Ancient Egypt. Click on "Come and meet us" above to find out more.
Stars of the Week 10.9.19
Well done to all of our "Stars" this week. They were all chosen this week for outstanding effort in Maths...
Stars of the Week 10.9.19
Every Monday each class teacher will chose one pupil to receive a "Star of the Week" certificate in recognition of outstanding work or behaviour the previous week. Here are our very proud, first recipients...
Well done to all of you... What a brilliant start to the year.
05.09.19 Welcome to our new school year 2019-2020. It is wonderful to see so many happy, smiling faces back at school, all keen and ready to learn in our new classes. A particularly big "Welcome" to our new staff and pupils throughout the school, we hope you will love your time at Wooldale. We are looking forward to an exciting year.
There have been a few changes to the organisation of our classes in school this year which means our website needs to be updated too. We will be adding and changing things as time goes on so please check back often and feel free to contact school with any requests, suggestions and ideas for us to try. We are always open to suggestions.
If you are looking for our old "What's New" page with all the wonderful pictures and events from last year don't worry, it's still here. Please go to Achievements 2018 - 2019 to find it.