Safer Internet Day 2020 24.1.20
11th February is Safer Internet Day. Each class has appointed a Digital Leader to support them with ICT issues. The Digital Leaders have been running a "Design Your Own Avatar" competition and will be holding an assembly in school. See our Safer Internet Day Certificate below...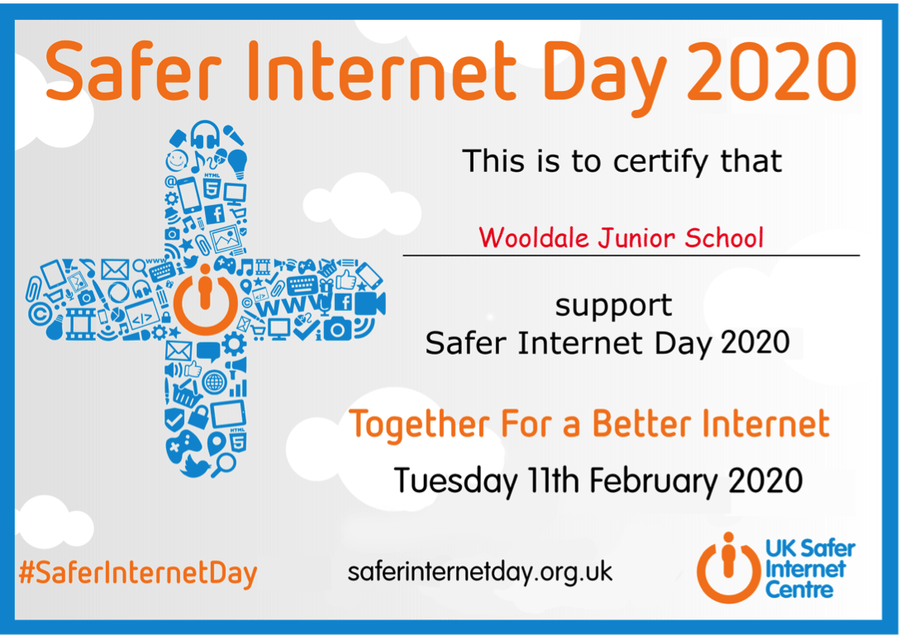 More New Beginnings... 10.1.20
A huge welcome to Mrs Buckley who has taken over Rowan Class to allow Miss Ingoe to move to Yew Class. She has thoroughly enjoyed her first week with all the friendly, hardworking pupils in Rowan.
New Year, New Beginnings, New Head Teacher 6.1.20
Welcome back to a new school term. It's looking like 2020 is going to be an exciting year for everyone at Wooldale. Our first exciting event has been meeting our new interim Head Teacher - Reverend Mrs Evelyne Barrow. Please have a look at our first newsletter of the year to find out all about her. We would like to offer her a big, friendly "Welcome" from everyone at Wooldale.
Bake Off for Children In Need 2019 21.11.19
Last Friday we held our annual Bake Off for Children In Need. This is one of the highlights of our year.Well, it involves cake, so what's not to love? Lots of pupils (and their adult helpers) worked really hard to produce some AMAZING cakes. Our resident baking experts judge the nominations from each class until an overall winner was found. And then we had a bake sale so we could all have a taste. The really good news is that we raised £588 for Children In Need (and we were mentioned on tv on the night! Did you see it?)...
Remembering others at Christmas... 19.11.19
Christmas is traditionally a time of giving. Are you able to help other local families this year? Please read the poster below to find out more...
Do you need help with Christmas?
Christmas can be incredibly expensive for families, especially those with young children. Do you struggle to cope? If you feel you could benefit from the offer of support (in the form of presents or a hamper) from the Full Life Church please contact the school office by Thursday 28th November to provide your details. This will be treated in the strictest confidence and your details will not be used for any other purpose.
Politicians of the Future??? 7.11.19
Following on from our exciting trip to Parliament we have been taking part in Parliament Week this week. Some of our Debating Club members gave speeches for the different political parties and we had our own mock election . If they get the taste for it we could be looking at a future Prime Minister here...
A Visit to Parliament 21.10.19
Today our School Councillors and other representatives visited the Houses of Parliament to learn more about democracy and how our country is governed...
Star of the Week 14.10.19
Well done to this weeks "Stars". They are shining so brightly because they have shown outstanding effort in English....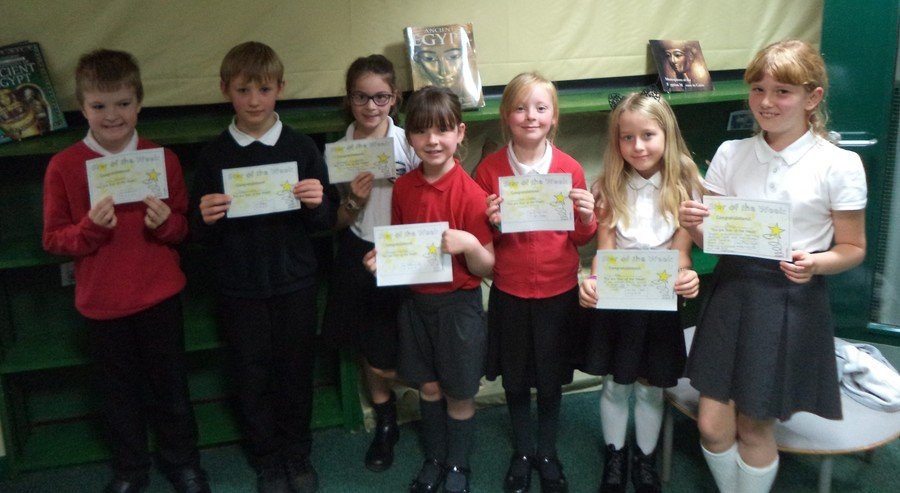 Macmillan Coffee Morning 27.9.19
A huge THANK YOU to everyone who attended our coffee morning or provided all the wonderful buns and cakes. We raised £220 for this worthwhile charity. Well done everyone.
A trip to... The Bagshaw Museum 25.9.19
Year 3 have had a fantastic time at the Bagshaw Museum learning all about Ancient Egypt. Click on "Come and meet us" above to find out more.
Stars of the Week 10.9.19
Well done to all of our "Stars" this week. They were all chosen this week for outstanding effort in Maths...
Stars of the Week 10.9.19
Every Monday each class teacher will chose one pupil to receive a "Star of the Week" certificate in recognition of outstanding work or behaviour the previous week. Here are our very proud, first recipients...
Well done to all of you... What a brilliant start to the year.
05.09.19 Welcome to our new school year 2019-2020. It is wonderful to see so many happy, smiling faces back at school, all keen and ready to learn in our new classes. A particularly big "Welcome" to our new staff and pupils throughout the school, we hope you will love your time at Wooldale. We are looking forward to an exciting year.
There have been a few changes to the organisation of our classes in school this year which means our website needs to be updated too. We will be adding and changing things as time goes on so please check back often and feel free to contact school with any requests, suggestions and ideas for us to try. We are always open to suggestions.
If you are looking for our old "What's New" page with all the wonderful pictures and events from last year don't worry, it's still here. Please go to Achievements 2018 - 2019 to find it.