SPACE TO EARTH CHALLENGE
Y5 have successfully completed the challenge of travelling 400km, which is the distance between Earth and the International Space Station. The challenge was set by Tim Peake and Mission Control to highlight the to take care of our bodies in space and on Earth. They have been sent a lovely goody bag of stickers, games, t-shirts and certificates. Well done Y5.
MRS SUNDERLAND COMPETITION
Our fantastic team of writers and readers brought home two cups and a shield from Mrs Sunderland this year. Well done to them.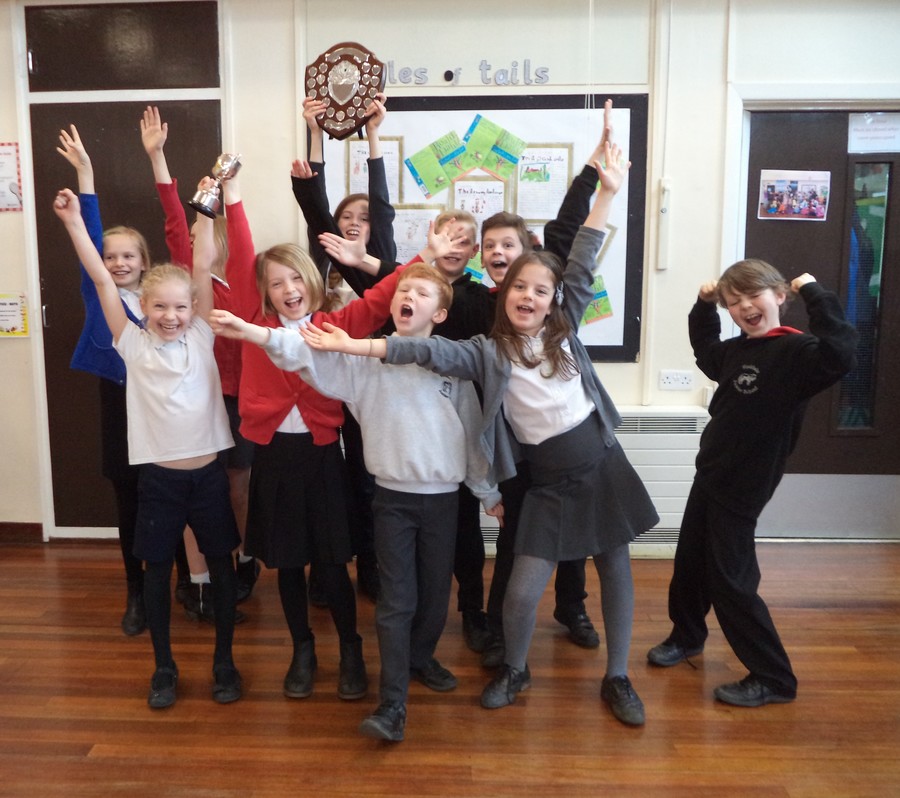 SPORTING ACHIEVEMENTS 2015-2016
Cross Country Running
Wooldale runners were once again winners of the level 1 and the level 2 competitions. We had a record number of runners at the West Yorkshire Games: Year 4 boys, Year 5 Girls and Year 6 Boys! Outstanding performances from many of our pupils!
Tennis
Our tennis teams did us proud all the way to Level 3 Competition at the West Yorkshire Games.
Holme Valley Mini Red Y4 Tennis Wooldale – Winners!
Wooldale Year 4s also went on to win the Kirklees and West Yorkshire School Games final!
Holme Valley Mini Orange Y5 Tennis Wooldale – Winners!
Wooldale Year 5s also went on to win the Kirklees and West Yorkshire School Games final!
Sports Hall Athletics
On 26th January our fabulous upper school team of 15 boys and 15 girls, qualified for the Level 2 Kirklees final and had a great time at the Leeds Road Sports Complex. We finished 5th overall out of 12. Go Wooldale!
Gymnastics
On Friday 4th March four Gymnastics teams entered the Kirklees Key Steps Gymnastics Competition. Our Year 5/6 Gymnastics squad qualified, won the shield and went onto qualify for the Kirklees final. Congratulations to them.
Rounders
Wooldale A team Winners of the level 2 tournament and our B team came second! What a great day!
Netball
A big well done to our two netball teams who played in the Holmfirth High School Netball Tournament on Tuesday 18th March. We got second place!
Football
Mr Casper sent us this report of the recent soccer tournament...
"It was a great tournament with 20 teams competing. Yr6 A team were with me and were fabulous (as all our teams were). They won their group with 4 wins from 4, scoring 13 and conceding 5.
Then they won their quarter final 2-0 with another commanding performance.
Next came the semi final. We dominated the opposition, had a goal disallowed, a penalty saved and hit the post amongst other good chances. Unfortunately, we lost in the penalty shoot out and narrowly missed out on the final. There were some tears, fate dealt them a cruel hand!
It's a beautiful game and we had so much more drama than the Premier League. A big well done to all concerned for a fantastic effort. "
Team Marathon
The whole school ran a mile for Macmillan Cancer Support. The combined efforts of each class added up to whole marathon. This year it was extra special because we ran it in memory of a fantastic teacher and friend of the school - "Mrs Winch".